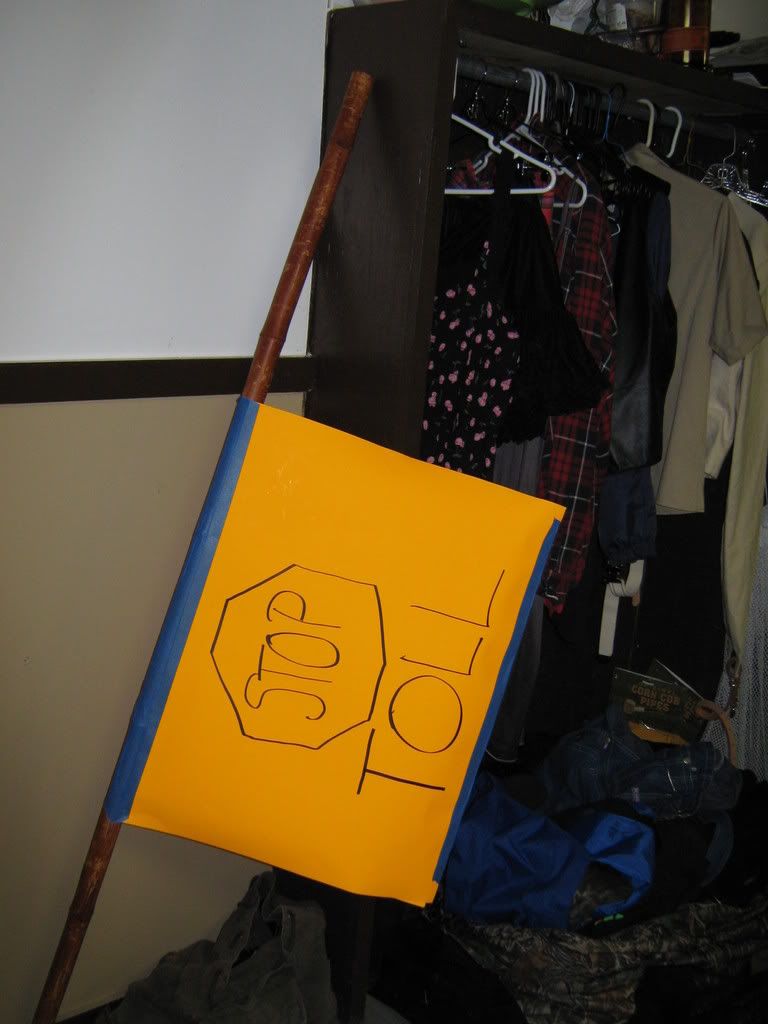 We drove down the dirt road to Leather Retreat and the guards were set up with traffic cones. We had to stop so that we could be checked off the list. I admired the traffic cones and wondered if I could somehow borrow them for a scene. Later, Don Quixote went on his trip to Walmart and found little orange traffic cones (4 for $3.50 – such a deal). It pleased me greatly that he thought of me and bought me a present. Of course, he had no idea that they would be used as a prop for a scenario with him as bottom later in the weekend.
On Saturday afternoon, I brought out the neon orange posters and the black Sharpie. "Here, make two toll booth signs – one for each direction." I liked that he was helping me with the set up. I affixed the poster to a six foot bamboo pole and enlisted Redhead Sue and Firefly as assistants. They would see to it that my tollbooth arm would raise every time a toll was paid.
DQ attached a parachute to his balls, I grabbed my shiny metal bucket, my traffic cones and a load of "tokens" (little stones like these but in pretty assorted colors
). We set out across camp towards the numbered cabins. I wanted to be on the busiest stretch of road at camp and I wanted a spot that had some shade. I decided that we would set up outside the drinking circle. Probably good to have a peanut gallery anyway.
DQ was situated on the side of the road. I cuffed his hands behind his back with my double-weight Clejusos. I attached my shiny metal bucket to the parachute and we were then open for business. There were people walking as well as golf-cart taxis. There were some actual vehicles that were breaking down from the State Fair or setting up Lucky's Gentlemen's Club. At first people were confused. They thought it was a private scene or that they would have to pay something. As soon as they realized this was a public scene open to anyone going through and that I was providing them with the toll to "pay,' people complied. The stones were tossed into the bucket. Clank! Clank! Some were shy. Some were very eager. Some made a lot of trips so they could do it again and again. Some returned and brought friends. Some people stayed around and watched. This created a traffic jam on the road. There was lots of rubbernecking.
Danny had a brick in his van and wanted to know if that would be like an EZPass, but we were rather primitive and did not accept EZPass. Pregnant women and cars had to toss in two tokens. I made the rules up as we went along. Everybody was happy to stop and toss a stone into the metal bucket. Some of the guys clearly felt bad for DQ as they did it, but they were not the ones into CBT. Way across camp, word had spread about the Toll Booth – Boymeat was over by the lettered cabins and people were asking him where they could find it.
Finally, it was time for the scene to end. We packed up our Toll Booth and DQ walked back to our cabin with the filled metal bucket swinging between his legs.
At the Sunday night dinner, DQ and I were awarded ribbons because of that scene. Cool!