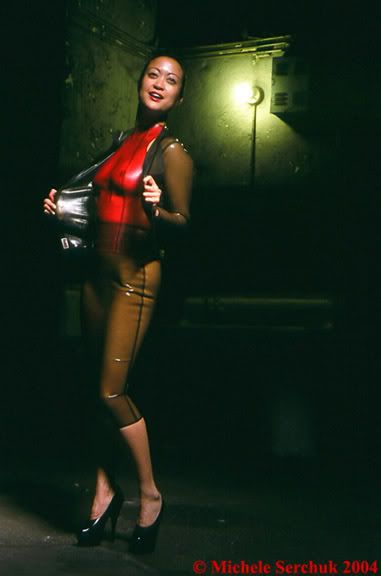 Yin
photo be Michele Serchuk
Yin came to Lesbian Sex Mafia last night to teach us rope bondage. The class was packed. There must have been like 75 people there. It was an overwhelming crowd for hands-on. Many more than anybody expected, but Yin taught graciously and I think everybody came away with a new skill or a new idea.
So, this girl comes over to me and introduces herself, "I'm the girl that answered your ad for a spanking bottom." She was all excited about it.
And dorky me says, "Oh my God, you are so cute!"
And then she goes on about how she saw me do the hot wax class with Madeline at LSM and that she found my blog and is a fan of mine. I just started blushing. And then she told me she was going to buy new underwear. Ohhhhh!
So I think that Saturday night's Spanking class for TES is going to be really sweet. Hope to see you there!

The Erotic Impact of Spanking with Lolita Wolf.
Doors open at 7:30pm.
$4 for members of TES and other SM/Leather orgs; $8 for everyone else.