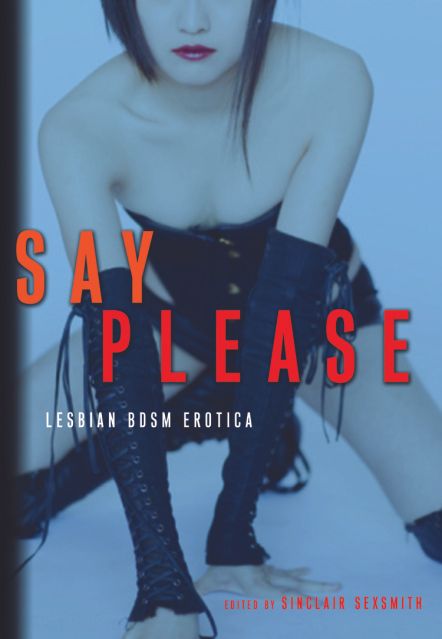 Today is my day on the Say Please virtual book tour and I feel like I have messed up and not finished my homework. I have not read the whole book.  But I love what I've read so far. Say Please is an anthology of Lesbian BDSM erotica edited by Sinclair Sexmith. There's lots of stories and it's the kind of book where you read a story and put it down and come back to it another time for another story. I need these kind of books in my life, where I can take a small literary journey and enjoy small bites.
So, I'm taking the easy way out and am publishing an excerpt from one of my favorite stories (so far). This is from Dusty Horn's story, "Spanking Booth."
I make a big show for my growing audience of peeling the panties down, leaving them just below the cheek to frame her luscious pinkness.

And they're off!" Lisa narrated, producing a cheer from the crowd.

I take great mounds of her ass in both hands and squeeze the flesh like I'm prepping some precious material for some obscure art project. Released, these handfuls bounce back into place, vibrating ever so slightly as they settle.

I am meticulous about covering all my territory. I set about creating a symmetrical coloration for my visual pleasure and even sensation for hers.

"There is a target on every ass, " I narrate for my captivated voyeurs. "Right here." I trace three concentric circles in the middle of each cheek, punctuating them with a bull's-eye smack that makes my victim howl and the audience cheer.

"But the ass has so much more to offer. You have to spread the blood around…" I demonstrate rapid tapping around the side of each cheek and play the cleavage of her heart shape like perfect bongo drums.

"And of course there's the tender insides. You have to be prudent here; it's much more sensitive, especially when they are aroused…"

"I am not turned on by this!" Beth protests, arching her back.

My hand reacts instinctively to bratty behavior such as this. It snakes between her legs and pries them open, landing five perfectly placed windmill blows at a difficult angle: the sideways curve of the lady's ass into her cunt.

She squeals, but before she knows what is happening, the pain and vulnerability of this recourse has subdued her further. Then, she merely melts and whimpers.

"This inner spot is for punishing insolent behavior and reinforcing roles."

The crowd laps it up. Queers so do love a good drama.

I stroke the pinkening skin and raise goose bumps down her back with the fingernails of my non-opposable hand.

"Jeremy, will you oblige me?" Without taking my eyes off my prize, I indicate the crumpled pants on the ground.

Knowing exactly what I have in mind, Jeremy whistles through his teeth and stoops to extract Beth's belts from its loops. He does it quickly, demonstrating the belt's whip-like potential. Always a showman, he folds it in half and produces a satisfying crack that strikes fear and lust into the heart of every bottom in the room.

"I find it extra humiliating to be beaten with one's own belt, " I say as Jeremy hands me Beth's.

This little distractions snaps her out of her complacency somewhat. She begins to squirm.

"Now, when I send you home you will wear the weapon I used against you. Every time you wrap it around your waist, you will think of its potential. And you will think of me."
Yeah, so this is pretty hot. You have to buy the book to read the whole thing and the other stories as well.
And here is the list of other stops on the virtual blog tour. Go visit these site and see what others have to say about Say Please.
April 25 Audrey at Babeland http://babeland.com/blog