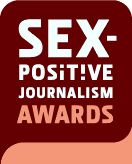 Read anything in your local (or national) paper that reported on sex in a surprisingly informed, non-hysterical way? The Sex-Positive Journalism Awards want to know about it.
Last's year's winners were selected from over 100 entries submitted by both writers and readers, and they covered subjects from sex in nursing homes, prostitution, and sex in Iran to Kink.com and panics over Internet sex. The winning articles were published in a dozen states in all corners of the United States (and one Canadian province), and represent a range of genres, from news to advice columns.
What they all have in common, however, is that they succeed in embodying the Sex-Positive Journalism Award's criteria for responsible sex journalism far better than the vast majority of their counterparts, helping to improve the quality of dialogue around sex and create a more well-informed reading public.
But there's a long way to go. "Mainstream journalists are generally hopeless at covering sexuality. It's not entirely their fault, but it would be great if this award managed to offer both support to journalists who'd like to do a better job, as well as some needed legitimacy for the subject matter," wrote About.com's Sexuality Guide Cory Silverberg when the awards were first announced.
"The media's frequent failure to apply balanced journalistic standards to sex-related topics affects real people's lives," adds Carol Queen, PhD, co-founder of the Center for Sex and Culture.
The winners of the 2009 Sexies will be chosen by an outstanding panel of judges, who have expertise in both journalism and sex-positive advocacy: Dan Savage, author of the popular sex-advice column "Savage Love"; Carol Queen, PhD, writer, speaker, educator, and activist with a doctorate in sexology; Debby Herbenick, PhD, MPH a research scientist and associate director for the Center for Sexual Health Promotion at Indiana University and sex columnist; and award-winning journalists Doug Henwood, Liza Featherstone, Amanda Robb, and Kai Wright. (See full bios).
The Sexies will be given for articles in four categories: news, feature, opinion, and regular column, plus "unsexy" (the most egregious violation of the Sexies' criteria). Articles must have been published in 2008 (2009 articles can be submitted now for next year though) in an edited print or online publication in the U.S or Canada (personal blogs do not quality). Submissions are due by March 31, 2009. Both writers and readers can submit articles for consideration. For full guidelines. To make entries please use our entry form.
The Sexies board is composed of journalists Miriam Axel-Lute and Doug Henwood, The National Coalition for Sexual Freedom, The Center for Sex and Culture, and the Coalition for Positive Sexuality. We are sponsored by Babeland, UltraVirgo Creative and the David Weinbaum Memorial Foundation. We are seeking additional corporate sponsors and individual donations to support our mission. Donations can be made.
###
The Sex-Positive Journalism Awards Criteria
We are seeking pieces of journalism that:
* touch on sex, sexual practice, health, or behavior–in some manner (stories just about sexual orientation do not qualify)
* are intended for a general audience
* meet high overall standards of reporting, fact-checking, and writing
and do at least one of the following:
* show evidence of fairness in seeking sex-positive sources to respond to sex-negative ones
* ask hard questions about the motivation and background of sources who rely on sex-negative soundbites
* avoid biased or sensationalistic language
* cover newsworthy topics, events, or issues that might tend to be swept under the rug because of controversial sexual content
* report accurately, respectfully and with nuance on sex research results
* contain fair, accurate, and non-sensational portrayals of sexual subcultures
* keep a clear separation between sex crimes, such as sexual assault or pedophilia, and things that merely make people uncomfortable, such as consensual kink, teen sexuality or gay priests; and help readers who may not be familiar with the issues make the distinction
* specifically challenge sex-negative assumptions or practices in society at large or in a specific community
* educate the public as to the diversity of sexual behavior without sensationalizing
* celebrate sexuality as a positive force in human lives
We are not looking for racy or sensationalistic stories. The awards will be something any traditional journalist should be proud to hang on his or her wall as a testament to journalistic standards of fairness and accuracy about a charged and controversial subject.