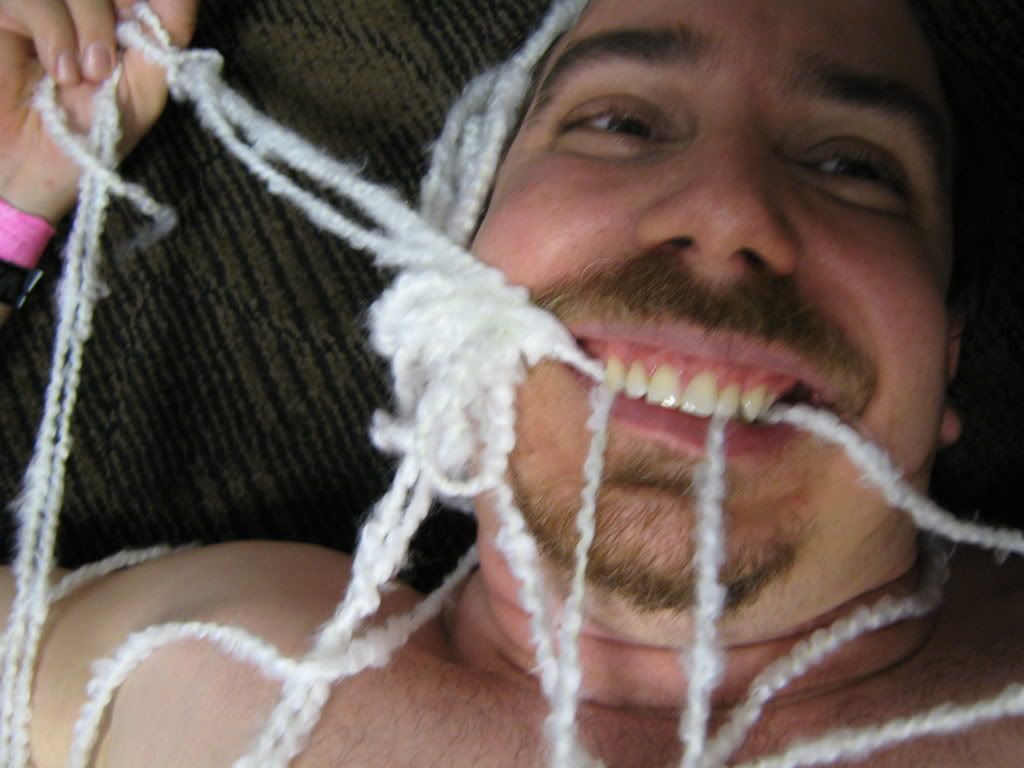 I am so proud of my home group for hosting an amazing TES Fest. I loved the new location. Having everything under one roof removed a huge stress factor for me. Booking the entire hotel allowed us to play outside and in the pool (with its "watersports area" – yes, I did). The hotel staff was friendly and accommodating. I loved my luxurious room which was a sharp contrast to summer camp.
I got to spend time with my leather family and close friends. We ate most of our meals in Glenda and Levi's room. They made marvelous crockpot dinners with salad and then warm out of the toaster-oven cookies! I contributed bagels and lox for the breakfasts. There was always fruits and a ton of food. Really unbelievable. Staying out of restaurants really helps my stress level go way down.
The Celebrity Auction on Friday night had a stellar lineup. cru and I kept it moving fast and when it was done, we had raised $3750 for NSCF. Tilda was one of the purchasers and you can read her review here. Both Julia and I were purchased by a guy who was really into mummification. He knew exactly what he was buying. He had purchased Julia two years ago and had had a good time. And he had seen me teach my Sensory Deprivation & Control class last summer. He had brought all the materials for us to be able to do the scene and he was an excellent negotiator. He told us that he liked some CBT and tease and denial. Well, we wrapped him up good and tight and tied him down to a bondage table. When we dug out his cock, he had a huge hard on. We teased him and stopped several times. Once when we stopped he just spurted without any more stimulation. And he remained hard, so we kept going with it. And he came a second time! And he still stayed hard! He had told us that he liked CBT so we kept at it. I imagine that he must have been very sensitive at that point. He tried to get out of the bondage. We stood by and watched his efforts and were pleased that he could not escape. After we let him out, he told us, "Nobody has any idea how much I was willing to bid on this."
My Water Bondage class was exhilarating, not just for Felice, my bottom, but for me and my co-tops, Sharrin and Venae, as well. We used black pallet wrap, pink duct tape, pink nylon rope and a rescue backboard. Someone found one for us in pink! Felice, femme that she is, found high heel sandals that she could wear in the pool – how hysterical! She also brought a pink waterproof vibrator for us to use on her. We dunked her and we turned the board around and around. And then forward and backward. Felice can hold her breath a long time. Christopher Hitchens writes about his experience with waterboarding as torture in Vanity Fair (with video), but we are such sick fucks, we do it for fun.
I went to a lot more classes than usual. Boymeat programmed an amazing line-up.
The Defining Moment with Graydancer: This is the first time I met Graydancer. I listen to his podcast and we have a lot of friends in common. I like the way he thought his class out. He's smart and he's cute. And, wow, did he get a lot of play that weekend!
House of Bondage with Juilia and slave 705: slave 705 was allowed to sleep in at home as we watched Julia release his bed bondage via computer. We were given a tour of his home via computer and the various ways he could be tracked at home and via his car and GPS. And we were able to ask him questions via chat.
Keep on Shooting! Five Steps to Better Erotic Photographs for Amateurs with Nayland Blake: I loved this class. It gave me great tips for shooting with little point and shoot digital cameras. We got to see the photos that Nayland took of a scenario of Jason, the mischievous kitty, and Sarah Sloane, the knitter. I also took a few photos. My favorite is above.
Caning with Sharrin Spector: I've seen this class before but it is always entertaining to watch Sharrin beat someone and, in this case, it was Tilda. Yum!
101 Ways to Destroy your M/s relationship with Master Larry and slave barb: Believe it or not, I love these guys, but have never seen them teach a class. Great class. Down-to-earth good advice.
Face Play – Where Vice Meets Vanity with Whipmaster Bob and Bootpig: These people are just fucked up and scary. I will not admit to learning anything in this class because I worry that nobody would play with me ever again.
Cutting with Sharrin Spector: Again, a class I've seen before – hell, I bottomed for it in the past. This time Boymeat was cut. I stayed for half of it but I got cold and I was tired so I left early and popped into the Cigar and Pipes class taught by Nayland.
Vending was excellent. I bought some rope from Venus Ropes. I picked up some supplies from Rainbow Rope. I used the gift certificate that I won in the Leather Pride Night raffle towards a custom black leather dress from Le Chateau Exotique.
Aside from the Celebrity Auction scene, I played.
I spent time at a cigar social with my clithood piercing chained to a big Boswell pipe.
I did a rope suspension with a hot butch as my bottom.
I flogged and single-tailed Don Quixote until he was unable to speak.
I enjoyed coffee and caning one morning in bed.
DQ and I took a flogging cherry from a hot guy who wants more with us.
And some various little drive-by's… and some good sex.
My leather family and some friends went out to eat on Sunday night. We went around the table describing our best moment of the event. I thought long and hard about my best moment. (Ha! long and hard!) It was when I saw that that my Water Bondage class ended at 12:45pm and the Book Signing started at 1pm. I delegated that problem to Don Quixote who assumed the role of Daddy/Nanny. He ordered me out of the water, helped me get out of the wet clothes, toweled me off, dressed me and sent me on my way with a pile of dry books. He wrangled all the wet stuff up to the room and then brought me a bacon cheese sandwich with fruit from Glenda and Levi's room. I was proud of myself for articulating my needs and being able to rely on somebody to take care of me. Good job, DQ! And thanks again.
Hooray for TES!