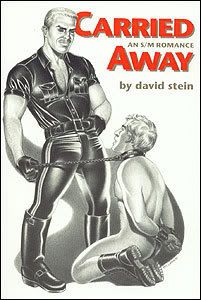 This is one of my favorite fiction books. Published in 2002, I consider it a classic. It's so much fun to read a book where the action takes place in the NYC gay leather scene. david stein knows this scene well – he was the co-founder of GMSMA back in 1981 and he's lived it. The author takes great pains to keep the story and the action very real. The characters and the sex and bondage scenarios are absolutely plausible. I never have to stop and think, "Yeah, right, like that could never happen." It's all very possible. It could all very easily go down that way.
I love it on two levels. First off, it's a great story. It delves into the relationship that develops between two leathermen in the NYC scene. Told from the bottom's perspective, it explores all his thoughts and feelings. Matt has been around and he's a bit jaded. His fears and insecurities interfere with his desires. Terry, the top, also has history. They both have a bit of baggage. But they find that in so many ways they are right for each other. They both have to deal with melding the fantasy they want with the reality that they are rooted in. How realistic! Been there!
Secondly, I love this book as porn. It has one hot scene after another. Lots of great bondage. This is the book I dug out after my breakup. I needed to read hot stories to distract myself away from thinking of my ex while jerking off. So, I would retire with this book and my Hitachi and, within eight pages, any eight pages, Boom! This is my kind of porn.
It's a big fat book of 582 pages and it still left me wanting more. So, read this for the plot and then keep it around for the hotBDSM stories.
Carried Away by david stein
Click here to buy it on Amazon!