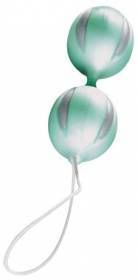 I had read a bunch of good reviews about Smartballs on the web. So wanting to see what they were all about, I bought this toy from Purple Passion. I am not usually a big aficionado for vaginal penetration when I jerk off. Usually if I am going to stick anything inside of me, it's a butt plug. But I wanted to try it anyway.
The first time I added a little water-based lube and stuck them inside. And, oh, I liked how they felt. While not so big, the toy filled me nicely and hit all the right spots inside of me. The toy made me hornier and ready to jerk off. I did jerk off and it was really good. They were a definite enhancement.
The next time, I tried putting them in and leaving them in for a while. I could feel them as I moved around the apartment. They were solidly in, and felt like they would stay in, but I was aware of them with every movement that I made. Again, it made me hornier, and again I jerked off and it was really good. I like being filled when I cum.
My next foray will be teaming the Smartballs with a buttplug.