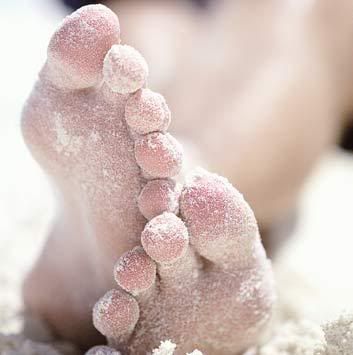 I know about foot fetishes. I've even been to classes about them, classes taught by foot fetishists. I even know foot fetishists. Gee, Boymeat's a foot guy. According to him, I do not have good feet. What does that mean? I don't have good feet? He has never really gone into specifics why my feet are not good. This is probably because he figures that my feet could kick the shit out of him if he insults me.
But seriously, foot fetishists are often very specific about what turns them on. Some are into the arches and some are into the toes. You got a famous foot guy like Elmer Batters, and Boymeat says he doesn't like the short stubby toes that Battters likes and he feels that stockings are a barrier. Foot fetishists disagree about what makes a foot beautiful to them. It's a very personal thing.
So, I have never hooked up with a foot fetishist before. Most often when I meet one, I am not attracted to him. (I say "him" because most foot fetishists are male. There are a few females, but not as many.) I think the reason they are usually not attractive to me is that they often seem so single-minded about feet, and I prefer partners that are well-rounded and have varied sexual interests. It almost always starts with some guy coming up to me in a club and saying, "Mistress, may I worship your feet?" Not attractive!
So, where am I going with all this? Lately, it seems that Don Quixote has developed a foot fetish. Actually it is more specifically for my feet. And, you know what? I am liking this. This is fun! My feet go in his face and he gets a big hard-on! It feels really great when he sucks on my toes and when he nibbles on them with his teeth. That makes me moan and giggle. I get to connect with him intimately while I can lay back and watch the action. Or I can stand over him and step on his face – also a good view.
In the realm of woo-woo, this appreciation of attention to my feet makes perfect sense. Every astrological sign has a part of the body associated with it. I'm a Pisces! Pisces is feet. Whoo hoo!