On Saturday Jefferson, Madeline and I met up for the Big Apple BBQ Block Party. We started with beef ribs from Hill Country. This is a new restaurant opening on 26th Street that is getting a lot of hype in the press, but the beef rib was good, not great. However, we all agreed that we loved the baby back ribs from Rack & Soul. Bonus: this restaurant is less than a mile from my home.
We then wandered over to Big Bob Gibson's for the Pulled Pork Shoulder.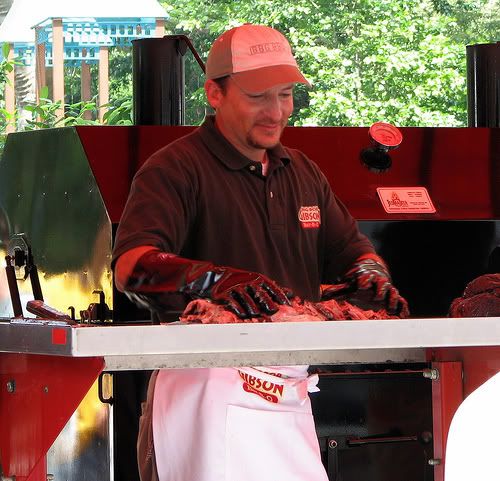 Photo
by dennisandluba
via flickr
I loved watching this guy preparing the meat.
He greeted us, "How y'all doin'?
"We're having a great time!"
"I like your hat." (I was wearing my mint green cowboy hat with the pig pin.)
"I like your big black gloves!"
He smiled, "That's the first time I heard that today."
We walked away and giggled as we discussed whether to ask him to come with us to the sex party later on. He could bring the gloves and I would bring a lot of lube.
We made our way to the grass and ate pulled pork. It was a glorious day for lying in the cool grass and there were no bugs.