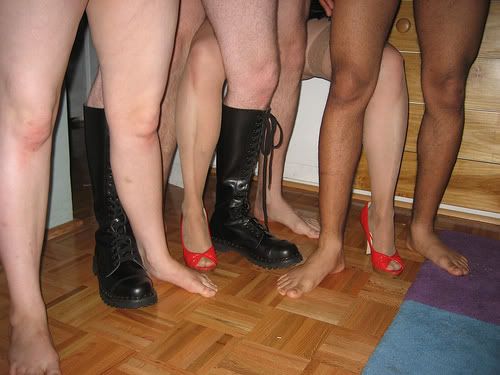 There was a lot of flogging going on at Jefferson's sex party. Some regular pigs and some newbies who wanted a taste. Jefferson was excited that he had a new flogger.
I admired the new flogger. "Oooh! This is nice! You needed something a little lighter and softer."
"Madeline and I went to Purple Passion. They are having an awesome sale."
"I love Purple Passion!"
"And look at my new boots!" Jefferson held up a pair of tall, shiny black Doc Martens with a gazillion eyelets.
"You must put those on right now!"
One of the girls clamored, "Let me help! I want to put them on you."
Jefferson sat in a chair and the girl began to lace him into the boots. One of the guys said "You could get those with a zipper so they would be easier to get in and out of."
"No, I like these. And I have people to get me in and out of them."
I smiled and watched the girl lace the boots. When she finished, she licked the boots.
Jefferson got up and pranced around. The boots went all the way up to his knees. They looked so sexy.
"And those are going to look great with your Daisy Dukes!" I said.
"Jefferson in Daisy Dukes? one woman asked.
"Yes, he's going to wear them at sex camp for me."
"Wow! That's hot!"
"What are Daisy Dukes?" one guy asked.
"Really short denim cutoffs that show the bottom of his ass," she replied.
Jefferson wore nothing but the boots all night. Well, he did wear a hot pink parachute cord on his cock and balls for a while, but he kept those boots on all night. He looked great fucking in them. At one point, a guy asked him if he was going to take the boots off. "No, I am really enjoying the attention I am getting in them."
Before I left, I told him that he needed to wear them to his boy party. "The boys will really love them."