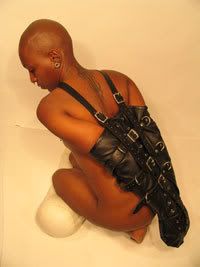 I knew her through her involvement in the women's community. But that night she was there with her husband. He's a nice guy – not creepy at all. He's actually dyke-approved. He likes her to dress in classic lingerie. That night she wore lace-topped stockings. I admired the look as I greeted them.
The party was private, invitation only, very comfortable with lots of good food and great play. I played and socialized and flirted. And then I saw that she was stripped down to just her girdle and stockings. He had her arms secured in a leather armbinder and her chest jutted out.
She looked hawt! The admiration probably showed on my face, because he beckoned me over and asked me if I wanted to whip her chest.
My jaw dropped, "Really?"
He smiled and nodded.
"You mean with a single tail?"
"Yes."
Perhaps I was over-negotiating, but I did not expect this at all. And, from the look of sheer terror on her face, she was not expecting it either. Her fear fueled me.
I grabbed a fresh whip and led her to a spot where her husband would have a good view. I began whipping her lightly. It was scary for her to see the whip coming at her. I cracked it in front of her face. I was laughing and she had difficulty staying still. At one point her hair fell in her face and I began brushing the strands of hair with the tip of my whip. I was "on" that night – sometimes I'm on, and sometimes not so much. I whipped her until she had pretty marks on her breasts. When I was done, the three of us hugged.