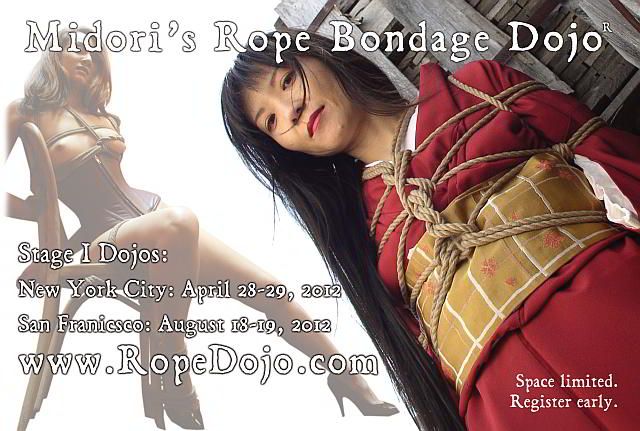 Midori's Rope Dojo is one of the best ways to learn Japanese rope bondage. Whether you area total novice or someone who has mastered the basics, you will learn and be challenged with this highly disciplined and concentrated approach to learning. In addition to Midori and her co-presenter, DeLano of DeLano Bound, there are teaching assistants (including me) who will make sure you understand and improve your skills. The two day course in NYC April 28-29 includes over 16 hours of instruction with lots of hands-on practice. Also included are morning nosh, delicious lunches, afternoon snacks & other goodies.
I am a graduate of this program. And I urge you to talk to other people who have taken this course. They will tell you how worthwhile this is and how it changed and improved the way they tie. This is the only time the Rope Dojo will be given in NYC this year. Register now because there are only a few spots left. It always sells out.
For more info, including the curriculum and FAQ, go here.