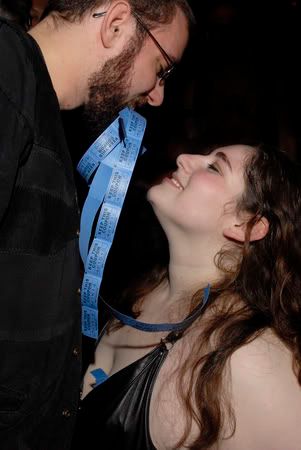 The 26th annual Leather Pride Night Auction will take place on Saturday, June 20th, 2009. This year the festivities will be at Splash! at 50 W. 17th Street. SPLASH!'s doors will open for LPN at 6:00 PM, and the auction will run from 7 PM until 10:00 PM.
Leather Pride Night is sponsored by nine NYC S/m-leather-fetish organizations:
Gay Male S/M Activists, Iron Guard BC, Lesbian Sex Mafia, MAsT Metro NY, MetroBearsNY, New York boys of Leather, OnyxNY, Pariah's MC, The Eulenspiegel Society and many committed individuals. We're also joined by the Imperial Court of NY.
This year, Leather Pride Night will donate the 2009 Auction proceeds to: Carmen's Place, National Coalition for Sexual Freedom, Callen-Lorde Community Health Center, By The Grace of George The Pitbull Angel Fund, and as is customary, an annual donation to Heritage of Pride, the producer of New York's annual Pride March.
Tickets for Leather Pride Night are $15 in advance, and $20 at the door. Because this is a fundraiser, everybody pays (even me and the other committee members). If you need a scholarship, let me know and I will give you a ticket at no cost.
Most volunteer slots are only one hour which is a short time for a four hour event.  Volunteering enhances your experience of LPN ands gives you a chance to be part of the action and to meet people.  In addition, this year, all volunteers will receive an LPN 2009 Volunteer cloisonne pin.  These pins are earned, not sold.  A real status symbol!
Here's where we need help:
Load in Splash with Sigrid, Tip et al, 1-2:30pm
2 people
Location Set-up with Grant, 1- 3pm
4 people
Literature, raffle and silent auction tables Set-up with Grant, 3-4pm
1 person
Setup the Raffle Table with Sigrid, 3-5PM
1 person
Auction Setup with Cubby, 2-6pm
2 people
Handling auction items at Table with Cubby
6:45-8:30  1 people
8:30-10pm  1 person
Backstage helping presenters dress – report to LaRubia and Doc
8:30-10pm  1 person
Silent Auction with JiffE
9-10  3 people
Will Call Assistant – help Lady D with items from auction after bid
8-9  1 person
Ticket takers with Mark & Catelynn
7:30-8:30  1 person
8:30-9:30 1 person
Box Office with Mark & Catelynn
8-9  1 person
9-10 1 person
Food Assistance with Lady Sabrina
Replenishing the food and utensils when it runs low
Ensuring that the dining area is neat and clean
6-8pm  1 person
8-10pm 1 person
Raffle Table Staff with Daddy Sal
9-10 1 person
Raffle Ticket Sales with Daddy Sal
6-7:30 5 people
7:30-8:30  4 people
8:30-9:30 6 people
Security with Jake
5:30-7pm   2 people
7-8pm  4 people
8-9pm   4 people
9-10pm  5 people
Location Breakdown, with Nayland
9:30pm-10pm  2 people
Please send your first, second and third choices to me.   And let me know if you have any questions!
Lolita Wolf
26th Annual Leather Pride Night
Saturday, June 20, 2009
6pm- 10pm At Splash!, 50 West 17th Street (between 5th and 6th Aves), NYC
Sponsored by GMSMA, Iron Guard,
LSM, MaST:MetroNY, MetroBearsNY,
OnyxNY, NYboL, Pariah's MC and TES
http://www.leatherpridenight.org
$15 in advance, $20 at the door