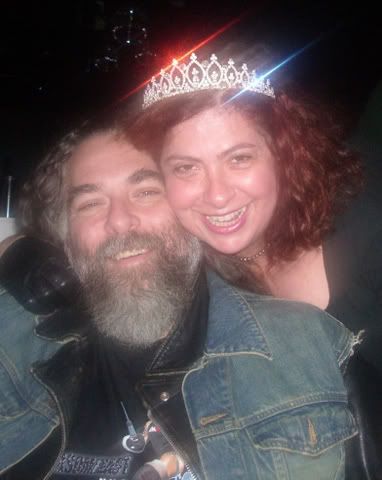 I love this photo of me and Nayland Blake at the Sexies. It was shot by Thor, who seems to take the best photos of me.
The first annual Sexies, or more properly, The Sex-Positive Journalism Awards, took place on Saturday night at Splash. It was a lot of fun. The crowd was a mix of mainstream journalists and folks from various alternative sex communities with an extra big showing from the poly community since it was Poly Pride weekend in NYC. Some of the people: Carol Queen, Judith Levine, Susan Wright, Tristan Taormino, Lux Alptraum, Audacia Ray, Reid Mikhalo, John Weis, Claire Cavanaugh of Babeland, Glenda Rider and Belle Du Jour.
Debaucheri reviewed the Sexies and said "The ceremony was headlined by Lolita Wolf who introduced the winners and organizers with tenacious grace in her hardcore ballerina ensemble, topped off, like a cherry on a sundae, by a sparkling silver tiara."
I won a this print by David Steinberg in the Silent Auction. It is of Veronica-Jason from the Sex and Disability series.