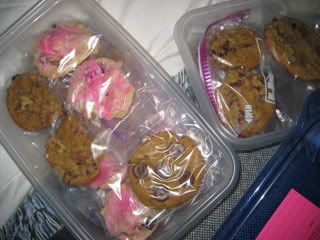 Number one highlight: Thor sent us cookies!
The pink ones are Pretty Pretty Princess Cookies.
Thanks, Thor!
I'm back from Dark Odyssey. Once again, it was an amazing event where I could connect with people, expand my boundaries and grow, and play a lot and have fun.
Oink cabin rocked! We did have to paddle a few people for slamming the door. Even Tristan had to take a paddling. She was a really good sport about it.
Oink cabin had a tote board and prizes were given out to the biggest pigs at camp. Play with another Oink cabin member did not count (but we had a lot of that). We counted 156 scenes with 71 people and the winners were Calvin, Bobby, Dermo, Linda, Delmar, Sir C, Rain, Holly, and Jim Deuder.
I taught 4 classes and I think they all went well. I got some good feedback. Rain bottomed for my caning class. It was our first time playing and we both liked that. I think we'll play again sometime, especially when we don't have a whole class there.
I never made it to any other classes. They looked good, but I had too many other opportunities. Plus, with the good weather, I wanted to be outside and play as much as possible.
I played with some novices and as well as with some very experienced people. I learned some new things, got some new skills.
I played with Barbara Carrellas and am pleased to announce her as a new addition to the 100 Divas Project.
The weather held up better than expected. I played outside a lot. I swam in the pool. I never got to the bonfire.
I avoided bottoming to a caning scene. I managed to do that in a very elegant manner.
There was hotness all around. I hooked up with people that I had connected with previously but hadn't played with. The play was great!
I went on a hiking adventure that became a spiritually journey.
I went on a date.
I woke up Sleeping Beauty.
There was blood in several very different scenes.
Canings! Spankings! A flogging!
I helped a boy earn his gloves.
Trees were important in several scenes.
I was given a wonderful and much needed massage.
When the food sucked, there were grilled cheese sandwiches and that always makes me happy. There was lots of pie. Glenda made a big family barbeque on Saturday night. I snuck off to Waffle House with Mama Bear.