Acquiring free tickets for Hair in Central Park means getting to the park really early to be in line. The park opens at 6am and people start lining up outside the park before that. On weekends, they start at 2am! Crazy! I arrived at the "reasonable" hour of 6:45am. Who does that? Well, Veronica Vera does it, too. She was just a little ahead of me on line.
Tickets are handed out at 1pm. It's a pretty long wait so I ordered an egg and cheese on a roll with a coffee. Andy's Deli (212-799-3355 ) delivers to Central Park. I also brought along my arsenal of stuff:
Camp chair
Blankie
Water bottle
Diet Coke
Almonds
Cherries
iPod
Cell phone
Library book (Blood Noir by Laurell K. Hamilton)
Notebook and pen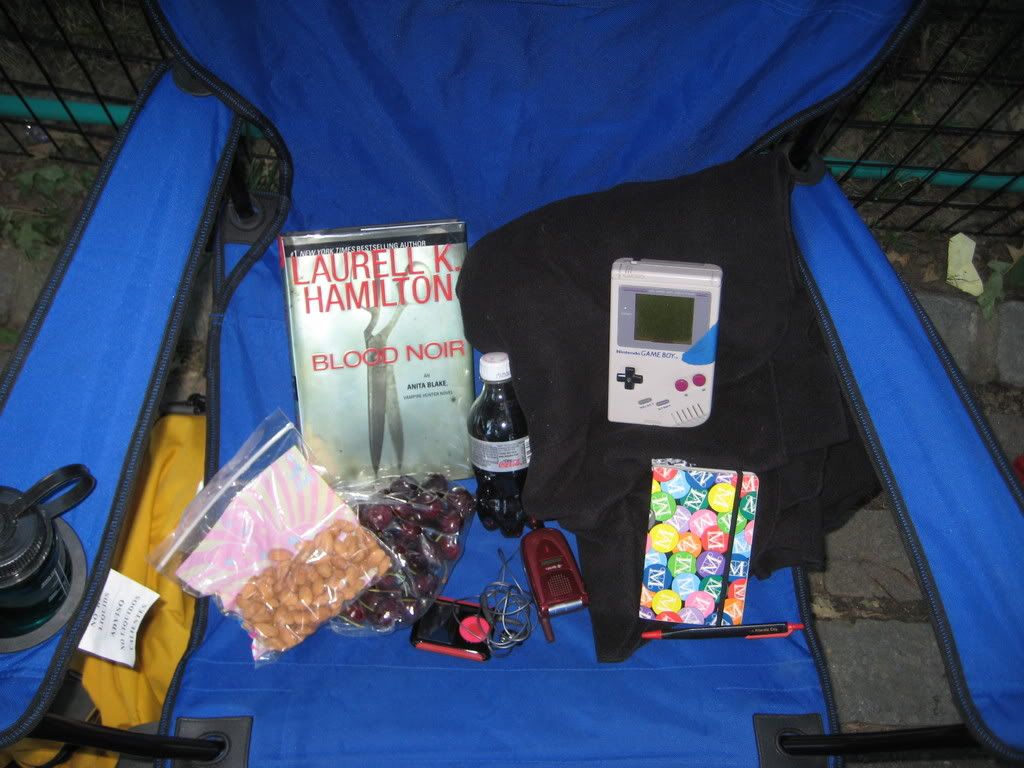 I scored tickets and went home. Later I met up with Thor who brought us a picnic. Fresh roasted turkey sandwiches, his favorite dark russet potato chips, fruit and cookies. Thor is a connoisseur of good cookies. He knows where to find the best cookies in the city. And when he has time, he bakes. He made maple frosted bacon chocolate chip cookies and sent them in a care package to us at camp. </cookie tangent>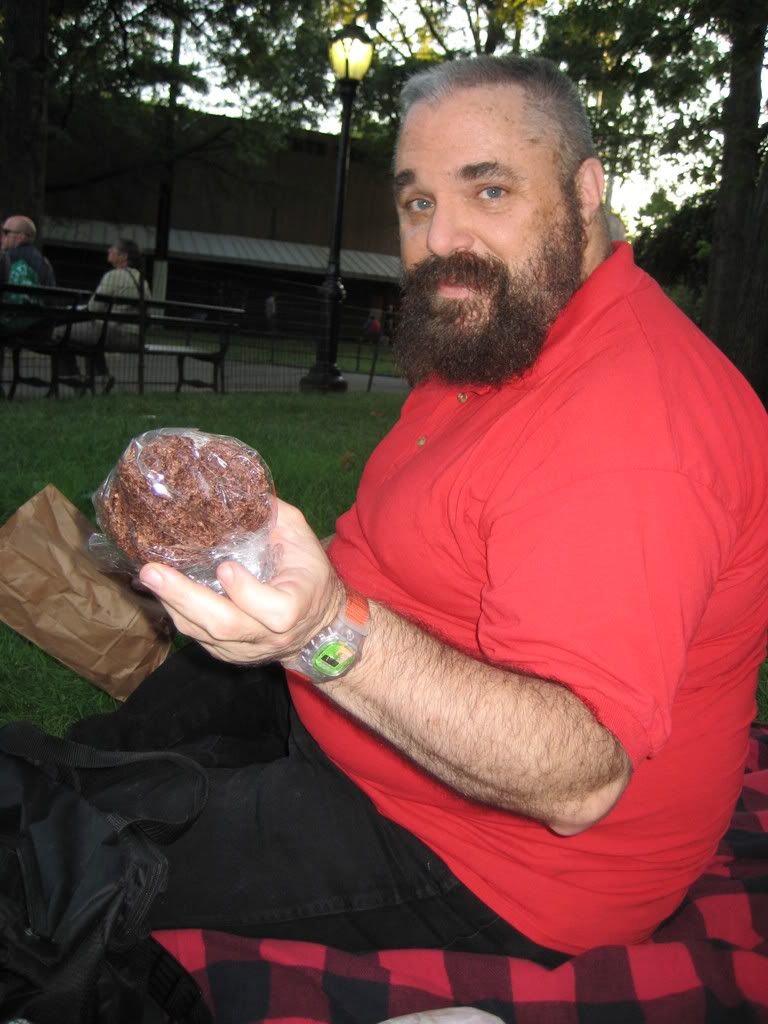 So, I loved Hair. The music is still great, even though some of the lyrics are a bit out of date.
LBJ took the IRT
down to 4th street USA
When he got there, what did he see?
The youth of America on LSD.
In case you didn't know, the IRT is the 1/2/3 subway line (we also had the BMT and the IND).
Other lyrics never go out of style.
Good Morning Starshine
The earth says "hello"
You twinkle above us
We twinkle below.

Good Morning Starshine
You lead us along
My love and me as we sing
Our early morning singin' song

Gliddy glub gloopy; Nibby nabby noopy
La la la lo lo…
Sabba sibby sabba; Nooby abba nabba
Le le lo lo…
Tooby ooby walla; Nooby abba nabba
Early morning singin' song.
This musical debuted in 1968 (the Summer of Love was 1967). It was a different time back then. There was a draft and 58,156 Americans wound up dying in the Vietnam War. (As a comparison, 4142 have died in the Iraq War as of 7/16/08.) Everybody smoked pot. Everybody had a lot of casual sex. It was a revolution. What's wrong with kids these days?
Scuse me while I … listen to some Jimi Hendrix.