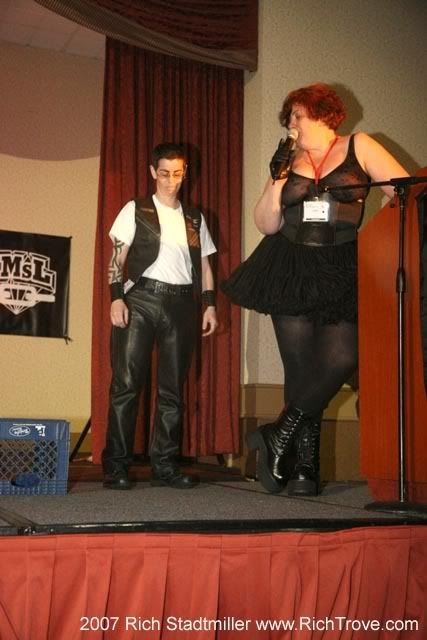 photo of cru and me as co-auctioneers at the IMsL Celebrity Auction last year
The
TES Fest
08 Celebrity Auction is pleased to announce its star-studded line-up. Please attend Friday night and be entertained and hopefully your bid will win a scene or an instructional lesson with one of these fabulous people.
Amanda Wildefyre
Boomer
Boymeat
cru
Danielle DV8
Felice Shays
Glenda Rider
GrayDancer
Janice
Lochai
Lolita Wolf
Master Larry, International Master 2007
Mistress Ardenne
Q, Int'l Ms Bootblack 2008
Rae Goldman
Rita Seagrave
Sarah Sloane
Sharrin Spector
Terror Dog
tomo
Vetiver Lane
Whipmaster Bob and Bootpig
Other celebrities may be added.
This auction involves TES Bucks which is purchased with real money which will benefit the National Coalition for Sexual Freedom.
The goals for the auction include meeting new people and making contacts, learning and playing. Fun and mutual pleasure are prime objectives. Buyer purchases negotiation rights only.
The scene is to occur in the TES Fest dungeon unless both parties negotiate otherwise. Play is to commence immediately following the auction unless both parties agree otherwise.
Please join us!
Lolita Wolf
TES Fest Celebrity Auction Coordinator