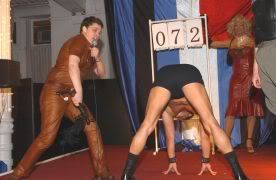 Leather Pride Night went great. This photo is from LPN 2003. It's Jo Arnone, our auctioneer, flogging one of the presenters. Once again this year, she whipped some poor presenter (haha) until she got the price she wanted.
It didn't seem as crowded this year. We'll see what the numbers are like in a few weeks.
In the big disaster department. I spilled Gatorade in my bag yesterday. Oy! I allowed my camera to dry out but I killed it. Won't turn on at all. Boo hoo! I have gotten hooked on carrying my camera with me and I really have been having fun with it.
And today is Folsom Street East. I was so looking forward to taking pictures! Wah!
So, I need a new camera. Nothing fancy. I do not want something crazy expensive. Maybe one even a little smaller, but one that will still take good pics, but not like an artist. I don't even know what features to look for. My girlfriend bought me this camera like 3 or 4 years ago. Anybody got any advice?
I am suffering camera withdrawal now today. This is the worst day to be without one! Boo hoo!