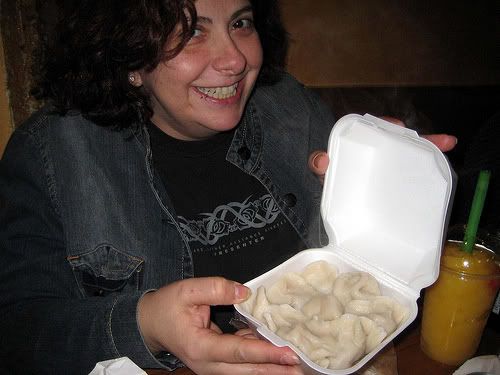 Steamed Pork & Chive Dumplings at The Dumpling House
photo by Viviane
A
really good post
about Leather Leadership Conference.
Monk very funny. Here's an excellent video showing how to make bondage points in a hotel room.
I met Tacit face-to-face at Frolicon. I have been following him on the net for years under several names. Here's his new tutorial on Rape Fantasy and Resistance Play.
Some of the events I attend offer these systems where you register and then put up a profile. One of them has a question that baffles me: "Will you be attending with a partner?" WTF? What information is this supposed to convey? It's a yes or no question. If I answer yes, then I appear to be unavailable, but I'm certainly not unavailable. If I say no, then it looks like I am lying since I am traveling and sharing a bed with one of my fuckbuddies. I'll be skipping that question altogether.