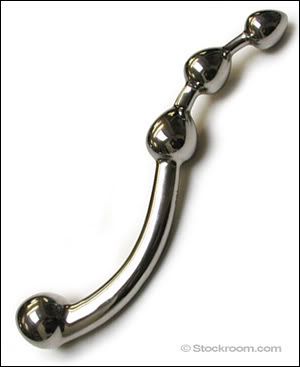 Men's Health has an article on how to last longer during sex. And the article pissed me off. Sex is not just thrusting a dick in a vagina until the dick spurts. Is that all there is? It's certainly not good sex (for me). Try using your fingers and your mouth. Or a toy like the njoy Fun Wand. I'm really liking that right now. Or how about a spanking? Or some bondage?
Violet Blue writes about Jay Leno's "show me your gayest look" incident. She mentions a study that says that homophobia is associated with homosexual arousal. All that aggression is really probably denial.
Starting Wednesday, April 9th Paddles will be open on Wednesdays from 8pm to 1am for play. Wanna play?
How cute! Delano ties up Monk in this instructional video on a spreader bar tie.
Here's another thing that pisses me off. US House Rep Jane Harman writes an Op-Ed in the LA Times, "…doctors told me that 41% of female veterans seen at the clinic say they were victims of sexual assault while in the military, and 29% report being raped during their military service." And it's being done by their fellow American soldiers. And too many of them are getting away with it.