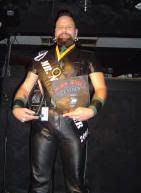 Congrats to my friend, Spanky, who won the title of Mr. New Jersey Leather 2008!
Great news! Today the U.S. 6th Circuit Court of Appeals in Cleveland struck down 18 U.S.C. 2257 on its face as unconstitutional. The Free Speech Coalition reports, "At this early stage, it appears that the decision in this case that began 12 years ago is a solid one." This statute has been a paperwork nightmare for both web and print media. It shut down many of them and put a chill on others. They made it so onerous because they were "trying to protect the children," but what the were really doing was censoring erotica for all adults.
I know that guy. I won't play with him again either.
Kiss my ass. I think they should have also gotten a testimonial from Tristan Taormino.
I added a mini-banner for Zipcar here in my sidebar. If you click through and sign up, you'll get a $25 credit for free driving with them. I love Zipcar and use it regularly. It's very convenient and affordable.
I am very proud of Boymeat and the keynote speech he gave in Albuquerque last weekend.