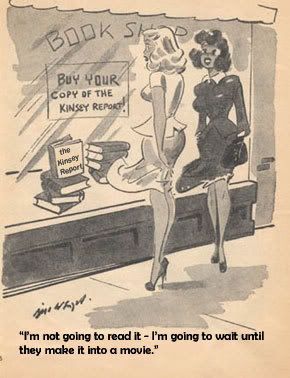 It was no surprise to me when Bill Clinton said that he "did not have sex with that woman." What does it mean when you say you "had sex" with somebody? The Kinsey Institute has an online survey that is trying to define what that means. Help them out and take the survey.
I imagine that they will get a wide range of answers. When I talk with people about what it means to have sex, I get a wide variety of definitions from them. Some people think that only cock/cunt or cock/ass fucking is sex. Some people think that fisting is sex, while others do not. Same with oral sex. Etcetera, etcetera.

When it comes to BDSM activities, it is even more unclear. People have told me that receiving a flog
ging is sex for them. Others think that a spanking is sex. According to
SCONY
guidelines, spanking is absolutely not sex or even sexual at their events; it is "
Old-fashioned, Platonic, Traditional, Institutional, Loving And Parental discipline."
So, wow, with this huge disparity of what it means to have sex, it is no wonder that Kinsey is doing a survey. Good for them, but I suspect that it will just show the same confusion that I have found. However, I do not allow disparate definitions to become a problem with me and my partners. I ask them to elaborate and then I listen when they explain.
With my last two primary partners, we agreed to define "sex" as five specific acts. This was our own convenient definition so we could be clear when we communicated and made our rules within our relationship. We were not trying to define what it was to "have sex" for the community or others. We were just trying to get the two of us on the same page.
So, it all boils down to communication. When you are not sure what a term means, ask. Even if you are sure, it's a good idea to ask anyway. You may be surprised at the answer. Either way, more talking with your partner(s) is a good thing.