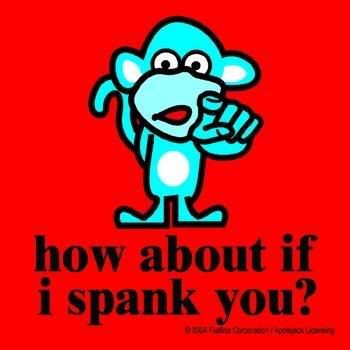 Ginger called me. "Remember that cute gay boy that was spanking me at LPN?"
"Yes." It had surprised me because I hadn't realized that Ginger played with men at all.
"Well, his birthday is coming up and he needs to get spanked for real."
"Uh-huh."
"He needs to be spanked by an expert."
"Well, I am an expert."
"Yes, dear, that's why I am asking you."
How much fun is this? I am the "go to" person when somebody needs a spanking expert! We agreed to meet Friday night for a drink at The Black Door. We sat at a table, Ginger on my right and the boy across from me. Introductions were made and we began to talk a bit. But the boy did not say much and looked down.
"Oh, you are shy. You can't even look at me."
He looked up and met my eyes. I gave him a big grin and he calmed down a bit.
He told me that he had never been to a dungeon before. He had been to some of the San Francisco bars like The Eagle and the Hole In The Wall, but he was inexperienced. He would be turning 30 shortly. "30? Huh! Then you won't be a kid any more. You do need a real spanking."
We walked down the street to Paddles and we entered. "Let me give you a tour of the place." I led him through the various sections and allowed him a chance to look. Walking around was a bit tough for him. While some of the scenes were pretty hot, he was bothered by all the single men lurking around watching.
"Now I understand why men pay so much more to get in to this club."
I nodded in sympathy. "It's not a perfect solution at all."
When we finished our tour, I asked him what spot was most appealing for him to take his spanking. He was distressed.
"Everything is so bright in here."
"We'll look for a darker spot."
And we went looking and found something a little out of the way. He bent over a chair and put his face in Ginger's cleavage. She has magnificent cleavage. And this gay boy is enamored with her cleavage. I hoped that this would calm him down a bit.
He didn't want to pull down his jeans. He was wearing underwear and jeans and he wanted to keep them on.
"Are the men here an issue for you?"
He nodded.
"Well, they are not interested in other men."
It didn't matter. He was not dropping his pants. He wanted to get spanked with his pants on.
Oy! How unsatisfying to spank through denim and underwear. But we all wanted to make this happen. I would make the best of it. I also hoped that after a while he would relent to taking down his pants.
Using my bare hand on denim totally did not work for me so I switched to a leather strap. He did like that a lot, but the pants stayed on. Oy! Oy! Oy! So, I hit him pretty hard. We finally ended with a wooden paddle with him counting to thirty.
When it was over, he was very happy. I was just happy that it was over.
Ginger will make it up to me at a later time, I'm sure.