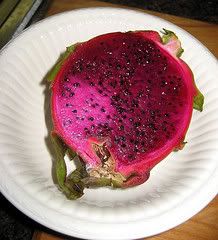 Viviane and I bought the Dragonfruit (see photo) in Chinatown on Sunday after we had dim sum with friends. We went to see Ratatouille which was fabulous. Afterwards we were both starving so we had some grandma pizza and split open the dragonfruit. We scooped out the innards and it was as delicious as it looks.
On Saturday, I went to Sandy Hook for the first time ever. I like nude beaches. I wish the waves had been bigger.
Tonight, Kit and I went to the SPF on Theater Row and saw Cipher. We didn't like it. But you takes your chances with unknown plays. At $10 for live theater, it was worth a shot.
I am almost done with putting together "The Greedy Pig Battles The Green Eyed Monster." I work well under pressure.
Hey, pick up the August issue of Penthouse Forum! Selina wrote an article reviewing my Play Party at Play House, which she calls "one of the best venues of its kind in the country." She mentions NCSF and gives the URL in the first paragraph. She calls me "a Queen of the BDSM scene" and "one of the best rope bondage artists." Additionally, she says that I "sure know how to throw a party." But I couldn't throw a party like that without help from my friend, Glenda Rider.