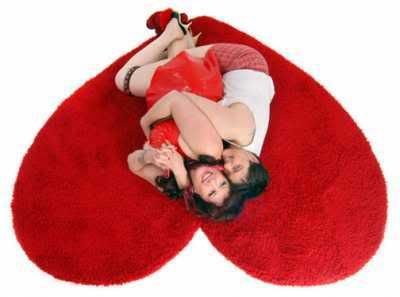 On Saturday, there were nine of us that went to see "Exposed: Experiments in Love, Sex, Death and Art" with Annie Sprinkle and Elizabeth Stephens. This show was performed at Collective: Unconscious in TriBeCa. This is a very déjà vu space for me because it used to be the Harmony, a strip club, and one Monday night in 1988, I went there for my first TES meeting. It was a not pleasant experience for me and I did not go back to TES until over a year later. Annie also reminisced about the old Harmony because she had also performed there back in the day. And she told us how Giuliani padlocked the door and that maybe if he got elected President, he would close more strip clubs allowing more theaters like this to open. Annie seems to always look at the bright side of life and even can make art about her breast cancer.
The show was fun and even interactive. I bared my breasts so Annie could take a Polaroid. I did it for art. I would tell you to go see the show, but the last performance was Saturday night.
After the show, I approached Annie about my 100 Divas project. I wanted to spank her. Her first question to me was whether I could include her partner, Beth. Of course, I thought that was a great idea. Unfortunately she was way too tired to do it then and they were leaving town the next day. She invited me to get in touch with her when I come to California. I sure will!