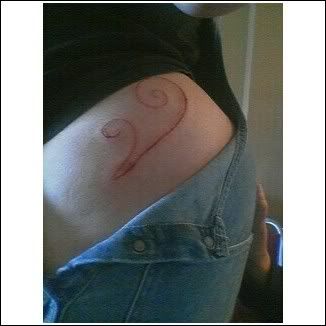 Sharrin Spector has 21 years of experience in piercing, scarification, branding body modifications. As owner of Pierce Ink, she has traveled all over the country and world as an artist and creating custom design body modifications. She is also an educator who is invited to events throughout the leather/kink BDSM community on many topics. If you have been thinking about getting a piercing, have a problem with an existing piercing or just want to learn more, Sharrin will be traveling to the east coast this summer to teach and set up appointments.
During Floating World in New Jersey from July 29-August 1, Sharrin will be teaching three classes – Kiss of Fire: Branding; Needle Bound – Merging Temporary and Permanent Piercing; and with her boy pat "I Love You Daddy"…When Service Comes in More Flavors!
If you are in the New York area and don't make it to the weekend, Sharrin will be teaching Cutting and Suturing at Purple Passion on Monday, August 1 from 7:00pm-9:00pm. Sharrin will also be scheduling piercing appointments on Tuesday, August 2 from 12:00 -8:00pm at Purple Passion. These appointments fill up fast so please drop Sharrin an email to set up your appointment to discuss piercing and jewelry.