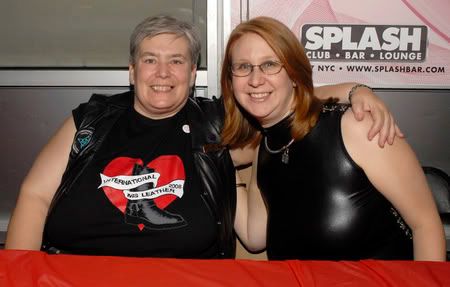 Don't Glenda and Sue look happy?  They volunteered at Leather Pride Night last year!  You can do it this year!
Below is a list of volunteer positions that need to be filled for Leather Pride Night. Most volunteer slots are only one hour which is a short time for a four hour event. Volunteering enhances your experience of LPN ands gives you a chance to be part of the action and to meet people. In addition, this year, all volunteers will receive an LPN 2009 Volunteer cloisonne pin. These pins are earned, not sold. A real status symbol!
Make it happen!  Be a part of it!
Load in Splash with Sigrid, Tip et al, 1-2:30pm
1 person
Location Set-up with Grant, 1- 3pm
2 people
Auction Setup with Cubby, 2-6pm
1 person
Handling auction items at Table with Cubby
6:45-8:30  1 people
Silent Auction with JiffE
9-10  3 people
Raffle Ticket Sales with Sal
6-7:30 3 people
7:30-8:30  1 person
8:30-9:30 6 people
Security with Jake
5:30-7pm   2 people
7-8pm  3 people
8-9pm   1 person
9-10pm  4 people
The 26th Annual Leather Pride Night Auction will take place on Saturday, June 20th, 2009. This year the festivities will be at Splash! at 50 W. 17th Street. SPLASH!'s doors will open for LPN at 6:00 PM, and the auction will run from 7 PM until 10:00 PM.
Leather Pride Night is sponsored by nine NYC BDSM-leather- fetish organizations: Gay Male S/M Activists, Iron Guard BC, Lesbian Sex Mafia, MAsT Metro NY, MetroBearsNY, New York boys of Leather, OnyxNY, Pariah's MC, The Eulenspiegel Society and many committed individuals. We're also joined by the Imperial Court of NY.
This year, Leather Pride Night will donate the 2009 Auction proceeds to: Carmen's Place, National Coalition for Sexual Freedom, Callen-Lorde Community Health Center, By The Grace of George The Pitbull Angel Fund, and as is customary, an annual donation to Heritage of Pride, the producer of New York's annual Pride March.
Please contact Lolita, the LPN Volunteer Coordinator.