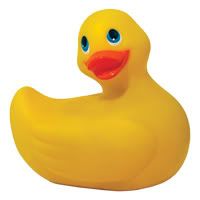 The Butterfly Temptress is a sex blogger who is fighting Stage 4 cancer. She has no insurance benefits and her family makes too much to get Medicaid, but not enough to pay for her treatments. I have joined in the effort to help her by pledging to donate my December Babeland commissions to her.
I am able to offer you a 10% discount for online shopping at Babeland when you enter the code Butterfly at checkout. Offer expires December 31.
You can also donate directly to The Butterfly Temptress via Paypal.
On top of all that, I am giving away an I Rub My Ducky vibrator. Just comment here and I'll pick a winner. Be funny. Make me laugh. No purchase or donation necessary. Contest ends December 22. Please note that Babeland will only ship this prize in the domestic Unites States.