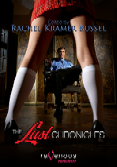 When Rachel Kramer Bussel sent out the submission guidelines for Lust Chronicles, I knew this was the perfect anthology for me. I wrote up and sent her Luke Lushious. This is a true story that happened to me at Dark Odyssey Summer Camp (never before published in my blog or anywhere). She loved it!
The Lust Chronicles Anthology is edited by Rachel Kramer Bussel and is available at Ravenous Romance. You can buy it either as an ebook or as an audiobook.
Ravenous Romance, a provocative new online publisher, will be publishing a-book-a-day, a Ravenous Rendezvous short story a day, as well as free online Lovestrology horoscopes. These books are a bargain – just $.99 for short stories, $4.99 for eBooks, and $12.99 for audio books. You can read the eBooks on your computer, Sony Reader, or Kindle, your BlackBerry or iPhone, and you can print them out. Ravenous Romance audio books are high-quality productions, with top narrators/actors, and you can listen to them on your iPod or computer, and you can burn them to CDs. You can purchase gift certificates, too.