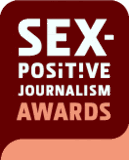 Come and celebrate the awarding of the first Sex-Positive Journalism Awards! The awards will be MCed by Lolita Wolf.
The first 100 attendees will get a gift bag of goodies from the Sexies sponsors. There will also be a silent auction and raffle to support the awards, which will include fabulous prizes including original art by Julio Aguilera, Sophy Naess, and David Steinberg; signed copies of books by winners, judges, and supporters; sex toys; gift certificates for sexy pleasures; and more!
Meet the judges and the winners. Judith Levine will talk about her experiences with media coverage of sexual topics when Harmful to Minors was released. Carol Queen will be there. See a full list of winners, judges and more.
The party will be Saturday October. 4, 6:30-9:30pm, in the downstairs lounge of Splash, 50 W. 17th Street, NYC. $5 cover.
Would you like to volunteer and get in free and be guaranteed a goodie bag? Volunteer shifts are only one hour. Contact Susan Wright at wrightnyc at aol dot com