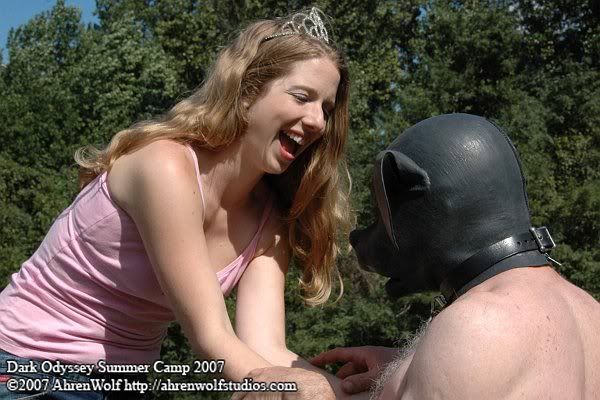 Princess Kali and her doggy at
Dark Odyssey
Summer Camp 2007
Photo by Ahren Wolf – see his new website
here
.
Perhaps this is what all those submissives who yearn to be trained are looking for.
The Fifth Circuit Court of Appeals has overturned the Texas statute that made it a crime to "promote or sell sexual devices." That law included dildos, and stated that if you owned 6 or more of them, you had the "intent to promote" them — i.e., sell, give, provide, or lend them. The finding quoted Lawrence vs Texas and spoke about privacy in the bedroom and the right to have sex for reasons other than procreation.
The Dyke Uniform Corps is back! (That's D.U.C. Don't call them Ducks!)
Pairs with Spares is about the recent Poly Living conference.
And Tilda Swinton makes the news with her poly relationship structure.
Florent has been the last good reason for me to go to the old meatpacking district, and it looks like it will soon be gone. Their rent is going up from $72,000 per year to an asking price of $700,000! Crazy!