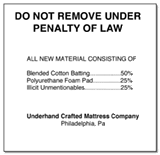 I was fresh out of the shower and came back into the bedroom just in time to see a big queen size mattress being navigated into the room. And it needed quite a bit of navigation. There are five steep steps into the bedroom and the mattress had to turn a tight corner. A really tight turn that had to miss the shelves with various breakable knickknacks and books and it definitely had to miss the altar.
She was already dressed and was helping them steer the mattress onto the box spring. I watched from across the room. There was no sense in my climbing over and trying to help. I would have just been in the way. So, I watched. She's petite, but very strong. She tried to get a grip on the mattress and grabbed the tag by mistake. Rrriiiip!
"I can't believe you just did that," I said.
She looked over at me and was too shocked to say anything. She knew I was talking about the mattress tag.
"It's like a federal offense," I added.
She looked at me, blinked, but still did not say anything.
By then, the mattress was situated properly.
"I'm going to have to punish you."
I bent her over the new mattress and thwacked her hard with the cane.
"No warm-up, because this is punishment."
I thought it was pretty hot.
She told me later that she doesn't do punishment, "But I did enjoy that little scenario."
"That's because it wasn't real punishment. It was just an excuse for some play."