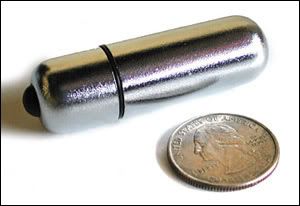 I love my
Bullet Vibrator
. Actually I should say Bullet Vibrators because I have three of them! I always keep one in each of my toybags. For such a little vibrator (
2 1/4 long, 5/8 in diameter)
, it is very powerful. Not nearly as powerful as a plug-in type of vibrator like an Hitachi, but you really get your bang for the buck here. And I love that this vibe is wireless and turns on and off with just a push of the little button.
These vibrators are only $8. And, because they are very small and weigh close to nothing, it is easy to just toss one into every toybag or purse. I love using them when I have someone tied up with hemp rope. The vibrations really travel over all the hemp and set the ropes buzzing. I also like to tuck the vibe next to a woman's clit and watch her squirm in the rope. It is also cool to open a hole into a mummification and drop the bullet into someone's crotch. They are so constricted that they want to squirm but can't! I also like wrapping a cock up with vetwrap or Bondage Tape and slipping the Bullet inside. The vibrations drive them crazy.
The bullet is apparently waterproof but I have not tried using it in water. I usually slip it inside a latex glove (or nitrile for those with latex allergies). Putting it inside a glove keeps it clean so that I can use it with a variety of partners and avoid tedious cleanup. I especially like to avoid cleanup after putting it up somebody's butt (or my own)! Using it with a glove allows me some control so that it does not get lost up inside someone, too.
I also carry extra batteries with me at all times. It really sucks when you run out of juice in the middle of a scene. The Bullet takes three little LR44 watch batteries. Stockroom sells replacement batteries – a pack of three costs $2.75. While this is a much better price than Radio Shack, which charges a crazy $4.99 each, I recently bought 100 LR44 batteries for $20 online at Batteries and Butter. Yes, I do like this toy enough to buy three of them plus 100 batteries to go with!