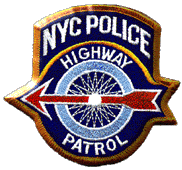 I'm driving down the West Side Highway babbling. Don Quixote is in the passenger seat. And then I realize his cock is out of his pants and he's rock hard. I am delighted and I start to play with it. It's good that the car is an automatic and I can drive with only one hand.
I look in the rear view mirror. "Hey, there's motorcycles behind me. They're in a pretty tight formation. I think they might be cops."
We stop at a light and I look again, "It is cops! Highway patrol. Put your cock away."
He puts it away quickly. I drive carefully, not giving the cops any cause to stop us. I let them get ahead of us. We stop at another light, "Look at their boots. Nice. The NYC Highway Patrol has the best uniforms. The jackets? They're leather and a bit longer and with the belt. It is the best uniform. And when they're not wearing helmets, they have cool caps."
"Now you sound like Bullneck."
"Really? He likes NYC Highway Patrol specifically?"
"Oh, yes."
Eventually, we turn east and they keep going south. "Okay, take it out again." And I go back to playing with his cock and babbling.
"You know, if they catch you like this, you can be charged as a sex-offender and then nobody will want to live near you."
"They already don't want to live near me."
"Well, you know what I mean. No matter what kind of sex offender you are, you are lumped in together with child molesters. The sex offender registries make no distinction like between two guys having consensual sex versus a rapist. Or that poor 17 year old kid who had sex with his 16 year old girlfriend. It's crazy!"
I squeezed his cock real hard.
"And you know what I really hate? When you go to the Black Rose event, in the paperwork at registration, they ask you if you are a registered sex offender. I really hate that question. I check no and sometimes I write that I find the question offensive and that some of my friends are sex offenders. It's really stupid. How come they don't ask if you ever got convicted of theft or something?"
I spit in my hand for some lubrication.
"I guess this is not very sexy, my ranting about politics while playing with your cock."
"No, it's okay. I like your passion."
"Well, I guess it is okay. You are rock hard. And hard cocks don't lie. So, okay."
I continue to play with the cock. And I rant a bit more.
So, hey, now we'll have all these Republicans that will be registered sex offenders, maybe we can get them to change the laws.
So, I figure that's enough ranting about sex offender stuff. I can always do that in my blog. Meanwhile, there's a guy next to me with a big hard cock. I work it.
"That really hurts."
I laugh and continue.
"You're hurting me and then you're laughing about it."
"Look, I have no empathy. I don't have a cock so I have no idea how much it hurts you." I laugh some more. "Besides, your cock is still really hard. You obviously like this."