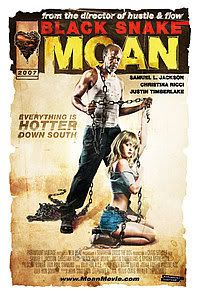 So, I have this fetish. Maybe fetish is the wrong word for it. But there's this thing that really gets me turned on. It's denim. Especially Daisy Dukes. Little denim cut-offs that are so short that you can see a guy's balls peeking out through the frayed ends. I like them on girls, too, but with guys you have the added bonus.
These days, no one wears anything like this. They're all wearing oversized cargo "shorts" that come down below the knee. Ugly! Anyway… shortly after Dark Odyssey last year, I told Jefferson about my little fetish. "I would really like you to wear these for me next year at camp." He thought about a few short seconds and then told me that he would. Wow! Wow! Wow! File this under Ask For What You Want And You Just May Get It.
Months later I saw the movie posters for Black Snake Moan. Oh! Oh! Oh! I just had to see that movie. I didn't care what it was about. I didn't care if it was any good. The image was just so hot. I needed to see it if only for the fetish value. I saw the movie and then informed Jefferson that I would lock a chain around his waist, too. He looked at me sideways and nodded his assent.
I was really looking forward to this. But I was also realistic. Camp gets crazy. Sometimes dates are made and scenes are planned and they just never happen. He's teaching. I'm teaching. He's got Viviane there and the blow job girls and his boyfriend and who knows who else he may meet. And he would have chores to do and he would have to leave Sunday because of work. So maybe this wouldn't happen.
Two weeks before the event, he sent an email wanting to schedule the Daisy Dukes date. He was serious and he was making our date a priority. We inked in Saturday at 5pm into dinner. This! This is one of the reasons that Jefferson is a great fuckbuddy. He is not a flake. He does what he says he will do. Does that sound really simple? Yeah, it is.
Anyway, he showed up at 5pm on Saturday. I went out on my front porch and there he was sucking a lollipop while swinging on the swing. He was wearing the Daisy Dukes and a little shirt tied up at the waist and a straw hat. And he was barefoot. I locked an eight foot heavy chain around his waist and expected him to follow me. But he held his ground and I was not strong enough to pull the chain against his resistance.
"I like beer." He swirled the lollipop in his mouth. Oh, he was gonna be trouble.
"I like beer," he repeated in his Southern accent.
Luckily, one of my cabinmates likes beer, too. I took him into the cabin to swipe a beer. Motherfucker went out of his way to slam the door. Big trouble. But I didn't want to hit him. I just handed him the beer and I began walking across camp. He followed on the chain with his lollipop and his beer.
As we approached the trees he balked. I coaxed him, "Come on, honey, I'll take you somewhere you've never been." We entered the woods. I kept the pace conservative because he was barefoot.
We entered a clearing and found some signs of civilization. He threw the beer bottle into the grass.
"Pick it up!"
He didn't.
"Pick it up!" I said it even more firmly.
He did. And then he threw towards the garbage pail but not in it. Fucker.
I made him pick it up again and this time he threw it in the garbage.
I think he realized that he was pissing me off, because soon after he started behaving. Really, I did not want him to act out Black Snake Moan; I just wanted him to wear the shorts and be chained up.
I lead him over to the bench by the pond and chained him to it. We began to kiss. Jefferson is a really good kisser. He's focused and tender. We hugged. And then I felt the emotion well up from inside of me. Oh, no, I thought, no, I did not want to allow the emotion to surface. I struggled for a bit and then figured that I just should allow myself to be real. And then I began to cry. A hearty cry. The kind of cry that felt really good to let out. Jefferson was perfect. He didn't say a word. He just held me.
I cried a while. And then I blurted out, "I love you." I swear I had no idea where that came from. I panicked and babbled, "It's not like that. This does not change anything! I also love you and Viviane, and you and Madeline, and you and Marcus, and you and the kids, and you and everybody else. Nothing changes!"
I think Jefferson understood. And then we had amazing sex. It was extra amazing because he was still chained to the bench. I am all about having amazing sex with a hot boy toy in Daisy Dukes who is chained to a bench.