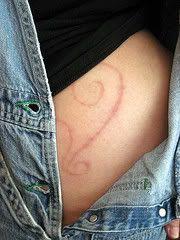 My cutting by Sharrin of
Pierce/Ink
Photo by Jefferson on Viviane's camera.
A really great interview with Jim Ward on BoingBoing. Jim pierced me back in 1993.
And Susie Bright interviews Tristan Taormino about making instructional porn videos.
Apparently I have a large room at Floating World with a king size bed and a jacuzzi. I got no dates or commitments (except the classes I am teaching) and I am hoping to get lucky.
I am looking for a ride to Dark Odyssey or else someone to share the cost of a car rental with me.
And, because people have been asking me, I am voting for Bo, Guy, Mark, Michele and Sabrina in the TES elections.
My Harry Potter book is waiting for me at the library! Yay!