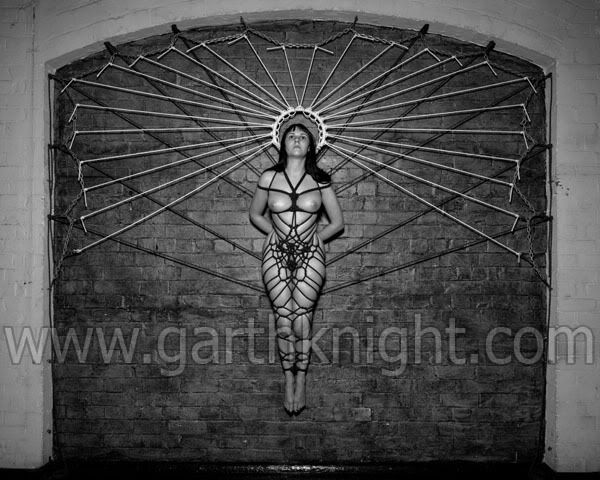 I spent a wonderful weekend up in Boston. Julia has an overwhelming collection of rope bondage books. I was intrigued by a book by Garth Knight. A lot of my earlier work was going down this path. Julia, Boymeat and Peggy will all remember some of my first rope suspensions with them were in this vein. At some point I got distracted by Shibari. But, now, I am inspired and want to go back and work on some of that freestyle rope again.
On Saturday night we stayed home and played with rope. It's very relaxing just the two of us with nobody else. We could just gab and tie and figure out stuff together. It wasn't like a sexy play scene but more like a journey together of discovery and experimentation. I didn't copy exactly from the book but took some concepts and combined them in my own way. It came out really pretty and we tried to use it as a suspension and it was comfortable.
I really liked that we could spend time playing privately just the two of us. Too often we play at events and have to worry about the time so that we are not hogging the equipment for too long. Or I get self-conscious about experimenting because people will be watching and they will think that I don't know what I'm doing. Maybe that sounds stupid, but one of the reasons I stopped this style was because a bondage mentor whom I respected was very negative about it. I am hoping to do some more exploring at camp!