I am in San Jose staying at the House of Consent. Yesterday was my Mama Bear's birthday. Part of my birthday present to her was that I took a "bicoastal caning" from her. This combines California caning and New York style caning. My butt got all welted. Ow!
After a breakfast at Denny's, we all went to Santa Cruz to continue our celebration of her birthday. We all included my Uncle Niko Boy and cru of course! We went on the bumper cars and the roller coaster. Here I am on the beach with my caramel and peanut apple.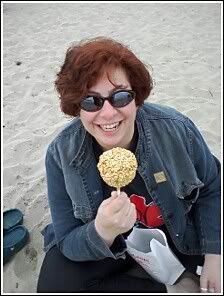 Then it was off to a big Chinese dinner where more people joined us, followed by bowling where even more people joined us.
Happy Birthday, Mama Bear!