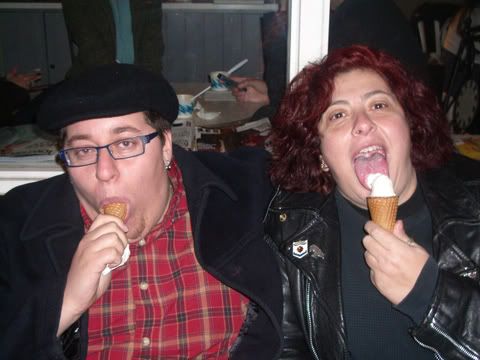 Bear and me.

Photo by Thor.

Another one here.

NYC is not rated as one of Americas most lustful cities according to a study by Forbes. But the study uses condom purchasing to measure their statistics. I know my own condom purchasing has plummeted because a) I get a lot of free condoms at events and from places where NYC distributes its free condoms and b) a lot of my sex does not involve getting fucked with a live cock. The article is also interesting because it talks about the rise in the use of sex toys, mainly vibrators.
So, this guy has moved into IKEA for a week. Brilliant! Maybe we can visit him on the way up to the Flea. Boymeat, meatballs?
It's time to make your nominations for the Pantheon of Leather Community Service Awards. I don't want to hear you whine about the winners if you didn't nominate the people who you think deserve recognition. Click on Pantheon for the rules and categories. And make your nominations.
Unfortunately, I will be at the Flea during the No Pants! Subway Ride.