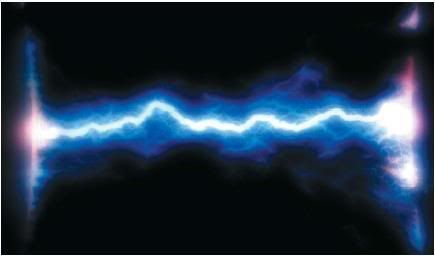 Last weekend Jack Rinella spoke about polarity and how that enhanced power exchange. Now, Jack explained that usually his thoughts are not original, but that he will structure and present certain ideas in a different way. Sometimes I agree with Jack and think he is brilliant; other times I think he's wrong and that he is a dweeb. Either way, I do like the guy a lot.
So, enough about Jack. I want to talk about polarity. Why would a bottom be a lowly, worthless worm? Why would a top be superior and up on a pedestal and worshipped? Why is it so hot when the Princess dominates the janitor? Or when she goes slumming and kisses the maintenance man? Because polarity is hot. Like the attraction of magnets that click together and must be pried apart. Like two posts on a stun gun where the electrical arc jumps from one post to the other. And the further apart those posts are, the bigger the arc has to be in order to jump from the one post to the other. So the bottom is degraded in status and the top is elevated. Here we have two people who play roles and redistribute the power to create a polarity, which is really exciting. Hot, hot, hot.
But, wait! This is not the green light for people to now write me and tell me that they are not worthy. No, that is not attractive to me at all. In fact, it is a huge turn-off. Am I confusing you? Does it sound like I am of two opposing views here? No, no, no. The polarity – the power imbalance – is an artificial creation between two equals. It's a fantasy that is acted out. And we both know that the reality is that we are equals and we are smart, fun, sexy and have lives.