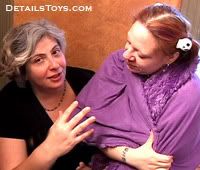 Tonight at 7pm, Wednesday March 2, is the Cinekink season opener which features the 74 minute movie, Kink Crusaders, a profile of the IML contest weekend. It is preceded by the world premiere of the 24 minute short, Behind The Scene, which profiles me and Lady D!
In a first-time flogging, Lolita Wolf and Lady D. demonstrate the heat, power, humor and tenderness that can co-exist within a single BDSM scene.
I am very excited to be on the big screen at Cinekink.  I hope to see you at the World Premiere!
(Behind the Scene is an excerpt from the 3.5 hour educational DVD, The Details of Flogging, which combines classroom instruction, behind the scenes commentary (from both the top & bottom perspective) & HOT sample scenes.)