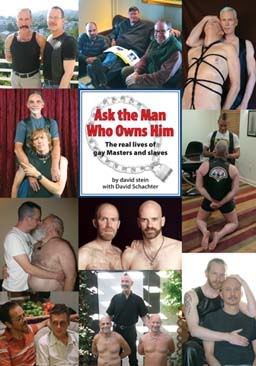 Ask the Man Who Owns Him: The real lives of gay Masters and slaves by david stein and David Schachter
I recommended this book to Rusty and she wrote this report:
Master Jeff and slave sparky, San Francisco; 15 years together
Master Jeff picked "Master/servant" to express the dynamic of their relationship because the servant suggests more freedom and initiative on the slave's part and less micromanagement, which is more work than he wanted to do. Another analogy Master Jeff used is that of a dog and an owner. A dog offers unconditional love, devotion, is as obedient as he is trained to be, and in return loved, protected and cared for.
Sparky says, "Serving my Master sexually, especially when he is very demanding, is kind of a spiritual practice." Master Jeff says, "A slave has no value if he's broken, so it's in the Master's best interest to care for and protect his slaves."
Master Frank and slave mr_h, Los Angeles; 4 years together
Master Frank says "Every year we redefine the relationship. It's my Mastership that sets the basic structure in the house that we live in. When you become a Master, you take on the responsibility for another life, it's a lot of work and it's a lot more commitment than a lover relationship."
Master David Merrill and slave Dave, Washington, DC; 8 years together
What's the point of being a Master if you can't set your own rules? Trust your gut when it comes to prospective slaves.
Master Skip Chasey and slave Rick Levine, Los Angeles; 10 years together
The closest Skip will come to saying what the purpose is – since he believes each person has to discover it for him or herself – is that it involves answering the question of who you really are. If you can't answer that, as most people can't, he asks two other questions that can help lead to the answer: What do you want, and what are you willing to pay for it? There are two kinds of Master: those who develop boys into men and those who develop men into slave, and its difficult for one Master to do both. Master Skip distinguishes between having sex, making love and sexual service. Master Skip allows his slaves to have all the vanilla sex they want, with the exception of his pup, Tim, who can top but cannot bottom without permission. All communication is verbal and written. Master Skip says "For me, a slave who's being deliberately disobedient is simply passive-aggressively saying 'I want out of this'. He doesn't have enough self esteem or guts to acknowledge 'this isn't working for me anymore. ' "
Just because the Master can, doesn't mean the Master should.
Master Mark and slave Eric, Boston; 16 years together
A Master would draw a circle in the sand and his slave would enter it, either to stay until told to come out or leave on his own if he wanted to end the relationship. Master Mark "Master/slave relationships are distinct in the way we acknowledge power in balance, but otherwise they require the same things as a successful relationships: communication and trust.
Master John and slave mike, near Washington, DC; 8 years together
John gave him a dog tag to wear that said, "Mike, property of John, if found treat gently." One of their protocols is "butt plug day" every Mon, Wed & Fri. Punishment spankings are given without any warm up or sensual touching. A slave never corrects Master, but rather seeks permission to inform Master or to suggest something. Slave's demeanor is to be humble and respectful at all times.
"Slaves, never sell your self short. Never commit to a Master out of frustration, desperation or poor self-esteem."
Master Marcel Pedneault and slave Kevin, near Ottawa, Canada; 8 years together
It's not a game, it's a life time. Kevin says "Everything he did was calculated to teach me something, to give me an experience that I would learn some lesson from."
Master Dan Coffman and slaves jeff bancroft and joe zabka, upstate New York; 9 years together
Dan may not actively control everything jeff and joe do, but he reserves the right to control everything except their religion and politics.
Master Rick and slave brass, Kissimmee, FL; 9 years together
In their slave contract, brass says "I swear to always honor you through my obedience and service. You are no obligation to explain your orders." After brass signed his contract, he was required to send e-mails to all of his friends and contacts, letting them know about his change of status.
It's much better to be open and discuss emotions than to deny them, but without these insights a Master cannot address the whole slave. Without this honesty, a Master/slave retationship cannot achieve its full potential.
Master Z, slave tony, and family, Dallas; Z and tony, 8 years together
"Ownership for me", Master Z says, "is total responsibility for the slave's life, health, welfare and growth." Master Z is not sexually intimate with any of his slaves. I master each individual slave, but there is a family unit, a tribal unit we consider very important. I was drawn to the integrity and respect of leather folk. I encourage sex and play outside of our bond, and slave boy finally became comfortable with it. The ability to obey without questions, to trust, is the mark of a slave.
Master Dave and slave bobby, Chicago; 6 years together
Bobby feels there is a spiritual aspect to his service, if only a profound sense that I am doing exactly what I should be doing.
Master Matt and pup slave wade, South Florida; 15 years together
Instead of running around being jealous, wondering where the other person is, Master Matt's like go out there, go find a boy and fuck him. I'm not a Master who won't cry in front of his slave. When I had a four-legged puppy he'd come over and lick the tears off my face when a friend died of AIDS.
Problems begin when anyone has expectations. The number one reason why people break up is over secrets.
Master Mick and slave link, San Francisco; 13 years together
What's the key to accommodating such a municipality of relationships? Good time management, Mick says. It's rare that one person can satisfy all of our needs in life. Master Mick's protocols are: boy offers himself to me willingly with honor and pride; boy will never lie to me; a rude, reluctant, disobedient boy reflects badly on his sir. Be honest with yourself, your Master, and your family, even if it makes you vulnerable.
SlaveMaster, no. 7, and slave nick, Las Vegas area; 3 and 5 years together
A born slave actually carries its owner inside. There is a living element there, and the owner's voice can be heard without the owner speaking.
Master Paul and slave gerry, Seattle area; 16 years together
All acts of love and pleasure are my rituals. People have always taken slaves and use them to further themselves. I'd rather have one who gives himself to me.
Daddy Ken Thomas and slave tim pursell, San Francisco; 3 years together
Drugs are a hard limit, a deal breaker. Under trust, today tim's life is no longer regulated by a contract or written protocol. Daddy Ken's advice to most masters or doms; talk talk talk.
The average age of the Masters outlined in this book is 56.6. The average age of the Slave is 48.6. The youngest Master is 34 the Oldest is 64. The Youngest slave is 30 the oldest is 64. The average length of A Master Slave relationship as outline in this book is 9.9 years.
Most relationships are base in Love; I was surprised to see that most of the relationships do not follow strict protocols. Most slaves work out side of the house. All most all of the relationships had the slaves that aresexuality controlled .Most Masters controlled the finances. Most live together.
Masters Benefits are described as follows: Slave makes me Laugh, Art the slave produces, Companionship, Fulfillment, Sense of feeling complete, Love and Devotion, Happiness, Joy ,Service support, A kinky Partner
Slaves Benefits as described as follows: Unconditional Love, Deep Fulfillment, Emotional and Physical Security, Happiness, Guidance, The privilege to serve, The life of his dreams, Satisfaction
What I noticed with most couples is that the slave did not sit on the furniture.
Thank you to Rusty for writing this report.