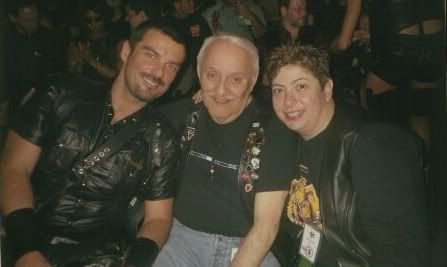 Mister Marcus and me at Mid Atlantic Leather 2000
Marcus Hernandez passed away last night.  He was Absolute Emperor #1 of the Imperial Court, Marcus the Merciless and Judge Emeritus of IML.  As Mister Marcus, he wrote a weekly leather column for the Bar Area Reporter for over 30 years.  Although, it was a local weekly, he was read by leatherfolk from around the country.  Marcus loved to dish, had a great sense of humor and was always a lot of fun to be around.  He was a fan of the P+P and always encouraged me.  He will be greatly missed.
There will be a memorial to celebrate his amazing life on Saturday, Nov 21 at 1pm at City Nights, 715 Harrison St, San Francisco.