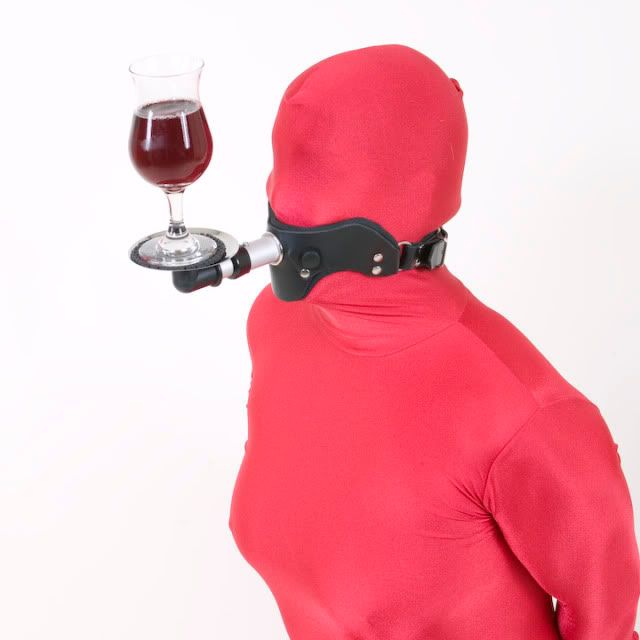 At Dark Odyssey Leather Retreat, I told Don Quixote that he should be available to me on Saturday night. I dressed up in the new girdle he bought for me and then used some pink nylon rope to fashion a strap-on harness for my big brown cock. I had learned the rope skills from Lee Harrrington and had adapted his style to suit me.
I pranced around the cabin feeling sexy in my new outfit and my big cock. "I'm taking you to the strap-on party!"
DQ became very quiet. I recognized that attitude. He would not argue with me; he trusted me and would go along with whatever plan I concocted. He did not have to worry, but he worried anyway and his worrying is kind of hot. I knew that the big brown dildo was way too big for him. It's a dyke dildo, not for boys. Besides we plowed his ass the night before last at the Queer party.
Nope, I had another use for him. I used some hemp rope to tie him. I decided to go for comfort and tied his hands in front and wrapped him into a modified upper body harness. When he was secure, I brought out the new toy.
I was so excited by this new toy: The Humiliator Gag System with Option A – Serving Tray from Scott Paul Designs. The gag part is very comfortable and made for long term use. It is constructed so that the mouth does not need to open wide and it puts the least stress on the jaw. There are various options that can fit into the gag. Each is very utilitarian. They have an ashtray, a toilet roll holder, a coat hook, a toilet bowl brush, a bootblacking brush, a feather duster and many other useful items.
I had chosen the drink tray. I thought that a drink would always be a handy and appropriate thing to have around. I also figured that I could place an ashtray or a candy dish or even some condoms on the tray, so it was the most versatile of the attachments.
So after DQ was tied, I buckled the gag on him. It is made in a sturdy material and lined with neoprene. It is sculpted for the contours of the face. But my favorite part is that it has a locking post with a shiny padlock, so that it can be fastened and locked with a key. The brilliant part is that it can be securely fastened without locking it as well. Since it was our first time using it, I opted not to lock it. I wanted to be sure to be able to get him out quickly if I had to.
I placed a plastic cup on the tray (we were at camp after all, so I did not have any nice crystal). We left the cabin with him balancing the tray and learning how to move with it. He had to move carefully as the cup on the tray obstructed his vision. Stairs were a particular challenge., Afterwards he told me how frustrating it was to go with me and be my drink-holder where the drink was in his face, yet he could not have any (of course I made sure he drank some water before I placed the gag on him.).
The strap-on party took place at Sex-O-Rama and there was a lot of left over liquor from Lucky's Strip Club the night before, so I was able to have a nice drink. DQ was my very own piece of furniture to hold my drink for me.
I did some socializing and got some action at the party. A guy in a garter belt, stockings and high heels sucked my cock while another woman plowed his ass with her dildo. After a while, I was wooed by a hot girl who wanted too suck my cock. She was really very skilled. There is an art to sucking non-bio cock. It is different than flesh cock and needs to be gone down on in a whole different way. This girl knew the difference. Oh, yeah!
We left the party after about one hour and fifteen minutes. I did not want to stay too long, because I did not want to stress DQ too much the first time. When we got back to the cabin and I removed the gag, he told me that it was comfortable to wear for a long time as long as the drink was not too heavy.
We discovered that I could not fill the cup all the way. It becomes too heavy. For this gag, it is best if the glass is small or only half full. It's probably good that I had a plastic cup because that is not as heavy as glass. However, I want to experiment with glass because glass is much more elegant than plastic.
I also want to get my drink-holder some knee pads. When I was on the bed getting my blow job, my drink was too far from reach. And I think my drink-holder would look good in his rubber apron or straitjacket. I am already thinking about how to use this gag again. I felt pampered having my drink by me. I really like it!