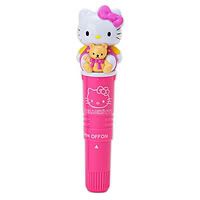 Daddy! Look at what I got! I am soooo excited because I finally FINALLY got my own Hello Kitty vibrator. And it's pink!  These were around maybe 10 years ago and were much sought after, but production stopped and some of these were going on eBay for a lot of money. Now Babeland is selling them again.
Yes, this is a fun toy, especially for me because I am into age play.  I like to role play as a six year old princess and this pink one is totally a great addition to my bag of little girl toys.  However, when it comes down to the business of getting off, the vibrations just aren't intense enough for me.  So, while I can rate it 100% on the kitsch value, I really need something more serious to get me off.
A few details:
The Hello Kitty vibe is make of hard plastic.  It's is nonporous and easy to clean.  Still, I would put it into a latex glove if I were to use it on someone else.
It takes an AA battery and Babeland even included one with it so I didn't have to wait to use it.
Babeland also sent me a Chocolate Raspberry Massage Bar which I haven't tried yet.  They'll send one out as a free gift to everybody who buys a Hello Kitty vibrator for as long as supplies last.
Babeland is running a Hello Kitty photo contest.  Maybe I'll enter!