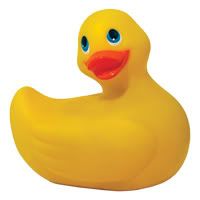 We have a winner for the I Rub My Ducky vibrator.
The winner is Laken. This comment made me laugh:
Sitting back in my bathtub one evening, I spot a rubber ducky on the ledge. Yay! I think, an early Christmas gift. Santa knows all to well how to get this mom in the spirit. Well, after molesting the rubber water fowl for about five minutes, I realize this is not an I Rub My Ducky. This is child's bath toy, and I just violated it. The toy was boiled, and now refuses to join me at bath time.
For everybody else, I am still offering you a 10% discount for online shopping at Babeland when you enter the code Butterfly at checkout. Offer expires December 31.