This sign represents how committed IML is to including everybody in the community. Something for everyone. This year the contest even had a heterosexual man competing; we've already seen transmen and bisexuals in the past. We also saw the first ever contestant in a wheelchair; I remember a deaf contestant in the past as well. Even the parties were diverse: there were the requisite parties for uniforms, rubber, gear, etc, but this year we saw the first ever ProDomme party.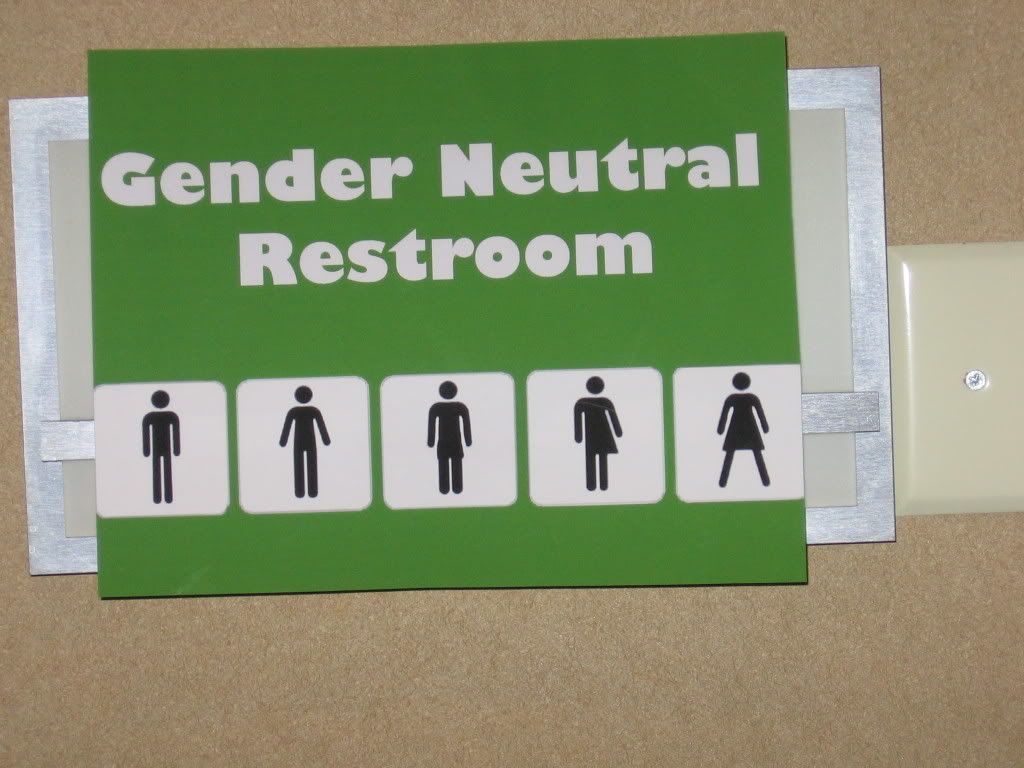 The lobbies were packed with people day and night. This photo is from Thursday afternoon before things were really hopping. I loved going up and down that escalator and making a grand entrance.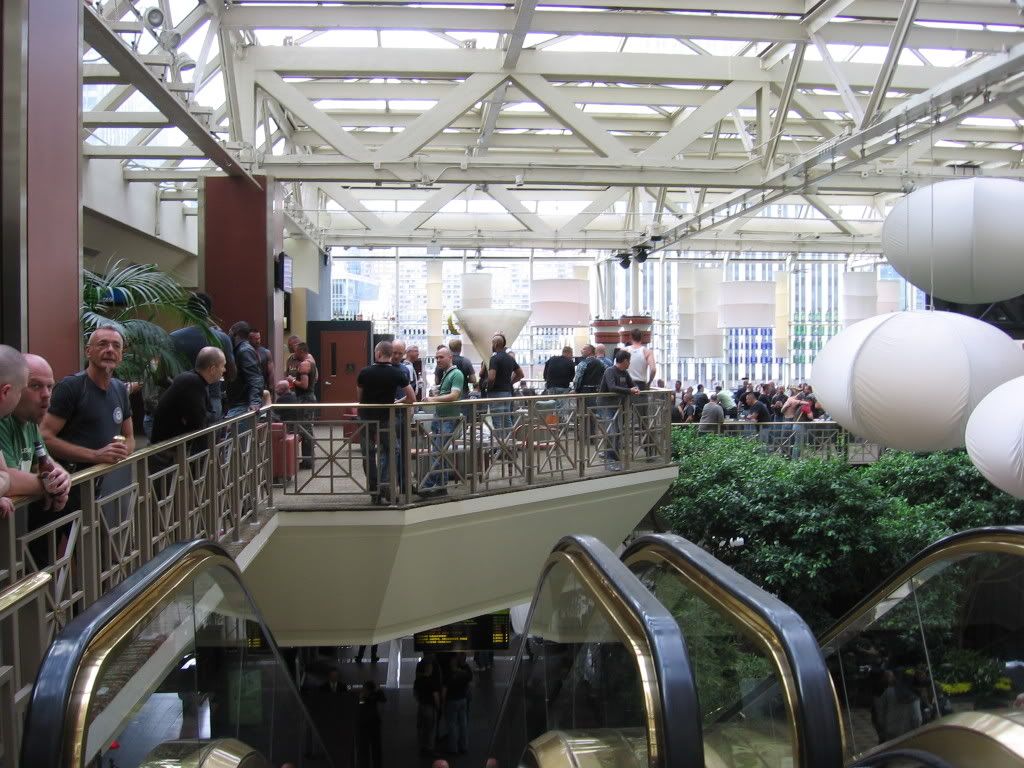 There are always friends to be found in the lobby. Here's Q, Mark Frazier and me. Q is from Atlanta and is International Ms Bootblack 2008. She's scared of me. Mark Frazier is also scared of me. He owns the Dallas Eagle, is a partner in South Plains Leatherfest and has just taken ownership of International LeatherSir/boy. He and Randall Kinnear are bringing the contest back to San Francisco and are "looking forward to establishing the titles as one for players and educators within our communities."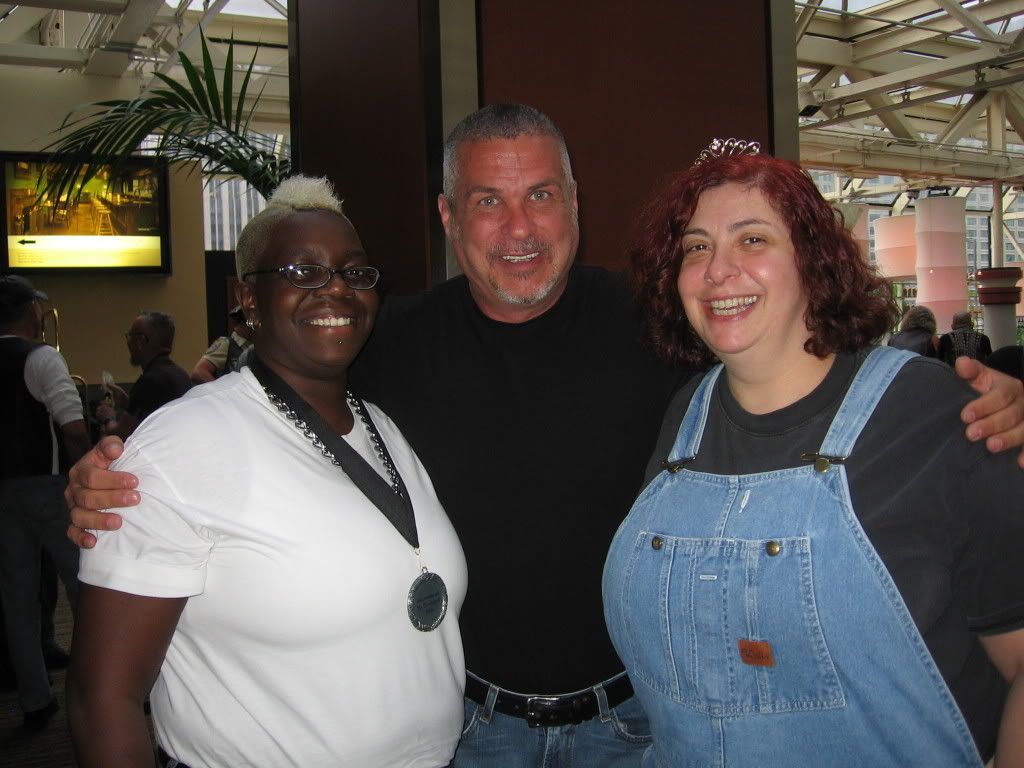 Opening ceremonies was on Thursday night. The doors of the ballroom were flung open and I was the first one in. We walked through a gauntlet of 51 contestants clapping and cheering the audience as they filed in. That's a big switch. Usually we are the ones clapping and cheering for them!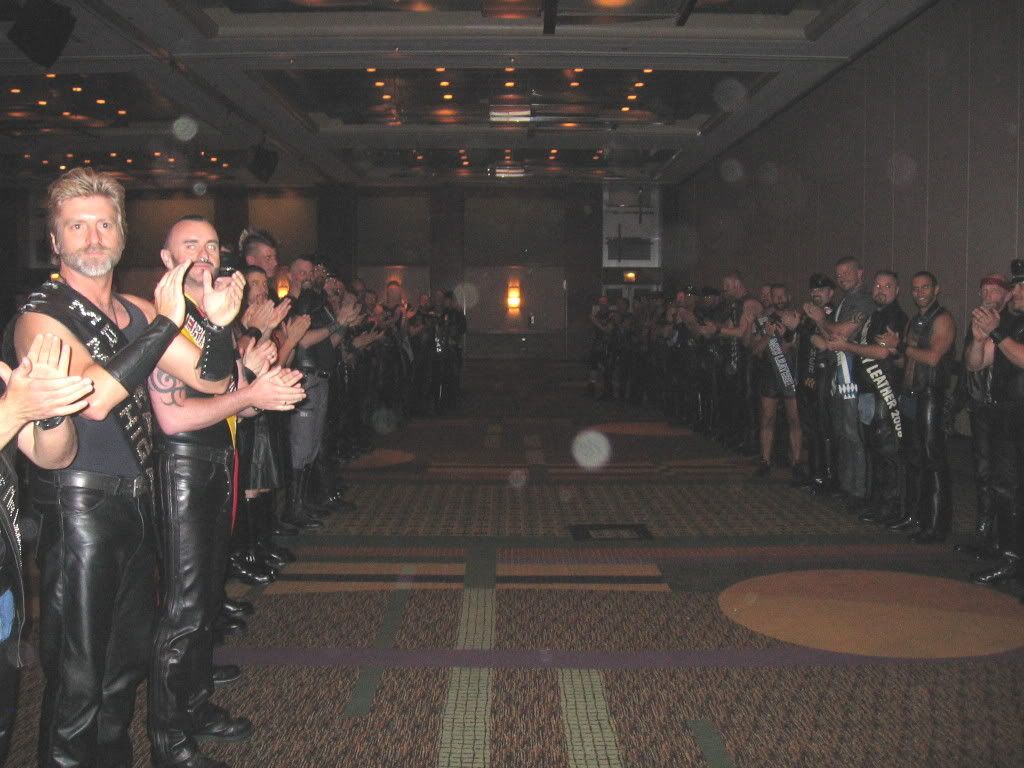 This is when we all get our first look at the contestants on stage and watch them pick their numbers. It's also where the current IML makes his step-down speech. Mike Gerle, IML 2007, spoke, showed a slide show and then did a ritual with the Sisters of Perpetual Indulgence. At least he did not sing.
Here's a photo of Thor, son chris and me. Thor was a judge. That's a big deal. Pup had introduced son chris and me via telephone a few months ago. We befriended each other online and met in person for the first time at IML. He arranged to have a package delivered to my room: a box that contained a porcelain pig with sparkly jewels and a crown. On the box was a huge pink bow with this pretty sparkling tiara clipped to it. Wow! That made me feel very special!