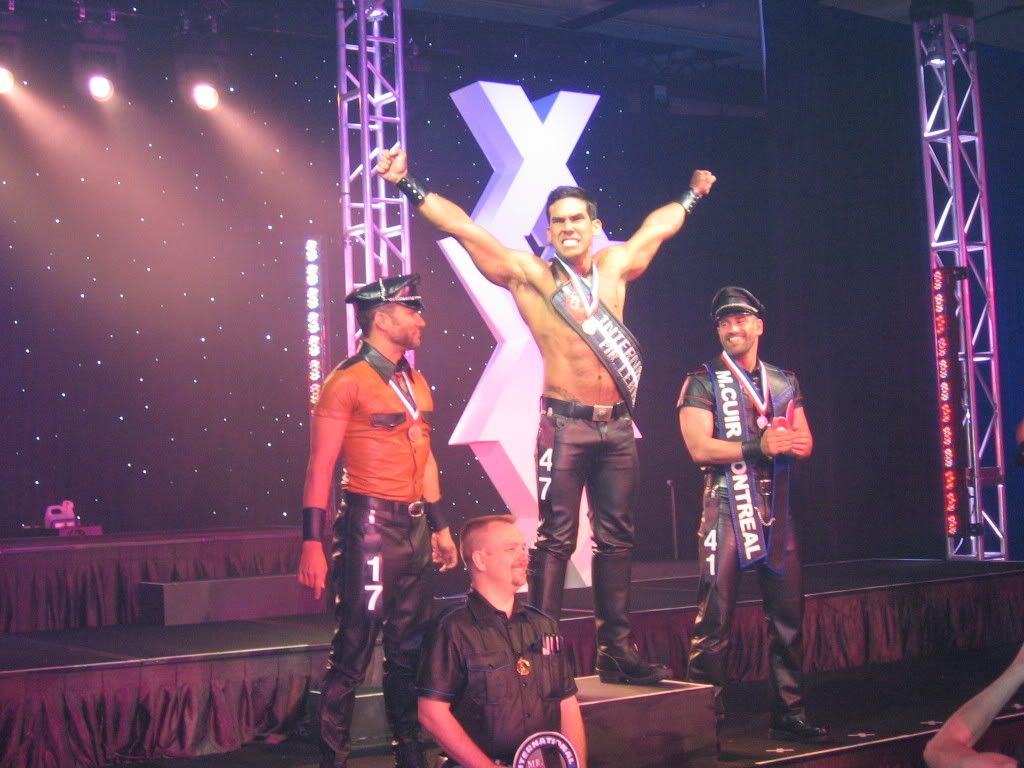 International Mr. Leather 2008: Gary Iriza, Mr. Palm Springs Leather 2008
1st Runner-up: Bob Firth-Tessier, M. Cuir Montreal 2008
2nd Runner-up: Scott Melton, Mr. Ramrod 2007
International Mr. Bootblack 2008: Bootdog, of the Alameda County Leather Corps
The contest is the centerpiece of IML weekend, but I'd rather tell you a story from afterwards. Thor lured us up to his room with promises of sweet things like chocolate-covered macaroons, biscotti and dark chocolate. So, it was Thor, Bad Faggot, son chris, Boymeat, Tim, AJ and me sitting around enjoying. And in walk these two guys. Apparently we did not close the door all the way.
Now, when you go to an event like IML and you leave your door ajar, it is a signal, an invitation to enter. And this is always an invitation for sex of some sort. When you enter a room like that, you never know exactly what you may find. It could be a single guy waiting tied up with some lube at his side waiting to be fucked, a bunch of guys having an orgy, or something. You just never know.
Anyway, these two guys walk in and see this group sitting around eating sweets. This was not at all what they expected to find. We were quite friendly to them and shared the chocolate. They stayed a little while enjoying with us and then Thor told them that there were Germans down the hall. So they said their thanks and their goodbyes and went off to find more adventures.